Abandoned House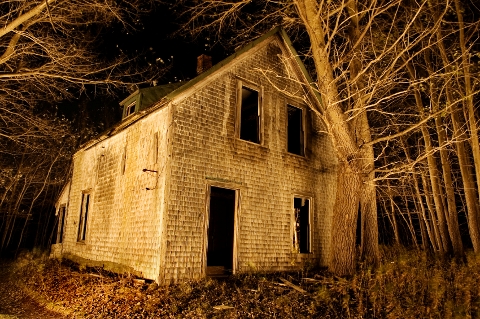 As you walk down through the Forbidden Forest, you see an old, abandoned house. The house looks very creepy. You question whether you should enter this spooky place. As you make your decision, you enter the old, rotting house.
Archive
Roleplay
Valkyrie and Donnie
Donatello Bellucci

- Sixth Year Hufflepuff • Siamese 1 of 2

-"Put your heart in it, you can go the distance - it's me and you against the world."
Message Me  - 17:03, September 23, 2018 (UTC)

In natural Donatello fashion, the boy stumbled through the woods before tripping over a tree root that would've sent him face first into the dirt if he hadn't morphed into his animagus to escape the face plant. Quickly changing back and picking up his backpack and skateboard he'd been carrying before falling, Donatello looked around. He spotted the house only a few paces up ahead and hoped Valkyrie was already there. The place was already giving him the creeps. "Val?" Don called out hesitantly.
Community content is available under
CC-BY-SA
unless otherwise noted.