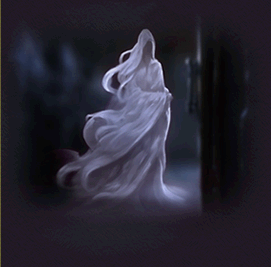 "
"...Wizards can leave an imprint of themselves upon the earth, to walk palely where their living selves once trod... But very few wizards choose that path."
"

–Sir Nicholas de Mimsy-Porpington
A ghost is the disembodied spirit of a once-living wizard or witch. Only magical beings can become ghosts. Many ghosts take up residence within Hogwarts Castle. These fleshless spirits were either afraid of death or have some extraordinarily strong connection to the locations they haunt.
Trending pages
All items (28)
A
B
C
D
F
G
L
M
N
P
S
T
W
Community content is available under
CC-BY-SA
unless otherwise noted.