This ancient Citadel, its location unbeknownst to anyone but members of the Black Parade, lies as the sanctuary for them. It is a place that acts as a black market, to trade lucrative items at very handsome prices, a briefing area for assassinations and spies, and training areas for all of Sabrina's paraders. The members of the Black Parade all refer to the Citadel by the codename "Midnight House", to protect its security.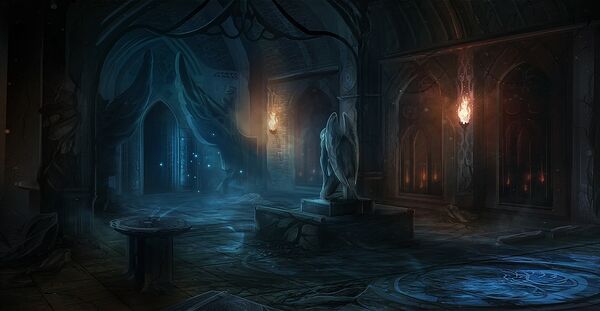 Staff
Places
Archive
Roleplay
(TBP Members only)
General RP
Sabrin & Tessa
Karith Black - Keeper of the Citadel - Alistair Fitzgerald's Bodyguard
Send Me an Owl! - 15:46, May 29, 2018 (UTC)
He'd stick to the shadows observing the exchange but not planning to be involved at all unless it became absolutely necessary. He would however keep any other wandering or nosey members away from this area...this conversation and what happened here wasn't for anyone else.

---

OOC: Sorry to intrude...you can remove the post if you don't like it here. ;)
Sabrina Le Fey

- Queen of the Black Parade

-"My skin has turned to Porcelain, to Ivory, to Steel."
Message Me – Find Me

"That wouldn't be wise. I don't know what's been happening for the best part of just over a decade. You, on the other hand." She says, tracing a finger along Tess' cheek. "You've proven yourself." She has a wistful tone to her voice, almost sad. "You see, the reason why Sparta survived for so long was due to the fact that the populace loved the two kings, but also feared them. Most importantly, the Spartans trusted them to the point of death. You and I, we've created that here. And there's no reason for me to take that away from you. You are my blood, after all."
Tessa Bellerose

- thief for the black parade • the thorn

-"She wasn't waiting for a knight; she was waiting for a sword."
Message Me – 16:10, May 30, 2018 (UTC)

"...okay," Tessa repeats, a little more softly. She feels bad for behaving so immaturely just a few minutes before, though in hindsight, she supposes she was just... angry, and confused, as to what this change meant. She'd gotten so used to things, mourned her losses, and had been able to get over the constant feeling of emptiness. "I've gotta say, I had some wonderful mentors. It shouldn't be a surprise I've done so well," she half-smiles, trying to alleviate some of the tension that lingers.
Community content is available under
CC-BY-SA
unless otherwise noted.