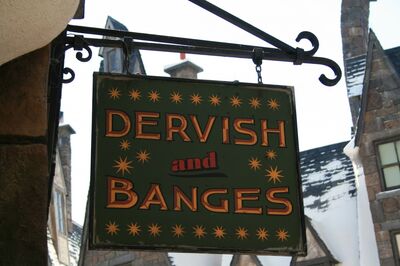 This cosy little shop specialises in every sort of weird and wonderful magical mechanism. Whether it's a glitchy Sneakoscope, rusty hinges on a chest with a Wizard Lock, or the fixing of a magical prosthetic, Dervish and Banges is here to service your machine, and your needs. For larger devices we obviously provide on-site services, with a range of fees to reflect the difficulty of the work, and the specialisations and expertise required.
If you can't think what brought you in, we can always sell you a Remembrall, so it won't happen again!
Don't let the name put you off -
things go smoother when you've been here; less manic whirling, and fewer explosions.
Dervish and Banges Merchandise
Magical Devices
Anti-Burglar Buzzer
Anti-Muggle Doorknob
Enchanted Razor
Magical Clock
Magical Map
Lunascope
Omnioculars
Penknife
Pensieve
Remembrall
Revealer
Seven-Lock Trunk
Wand Weigher
Wizard Lock
Other Equipment
Telescopes
Cauldrons (Pewter, Brass, Copper)
Scales
Phials
Quills
Ink
Special Requests
Dark Detectors
Foe-Glass
Probity Probe
Secrecy Sensor
Sneakoscope
Proprietor and Employees
Roleplay
Logan Amador Slytherin in perfection
-"Don't just sing it, bring it!"
 – 09:09, February 10, 2019 (UTC)

*His foot literally falters on the threshold, finds a non-existent splinter to snag on, and he half-stumbles inside, righting himself just before he wipes out a display of Omniscopes. Then - he stands there ... blinking.*
Kulta and Zilya
「 Zilya Sakellarios-Willow 」Wondrous Witch of The West
Magic, strange—but fun—toys, and a whole lot of chaotic mess? If the store wasn't made just for Zilya, then she had no idea who it was for. So yeah, she got out for a bit to explore the wonderful heaven known as Dervish and Banges alone. She had tried to convince her sisters to go, but Zenia wasn't in the mood and Zoe was in trouble. Oh well. Suppose some explorations just had to be taken alone, but alas, as soon as she stepped inside, she was mesmerized. She touched every contraption, even though the workers were giving her the stink-eye for doing so. They probably wouldn't be any happier when they found out she didn't plan on buying anything either.
Message Me • 06:51, January 3, 2020 (UTC)
「 Kulta Vestri 」Diva ✌ first year Hufflepuff
Being left to her own devices, and fairly lonely, as her father was always busy, Kul had decided to explore the magical world a bit more. Somehow, she ended up finding herself in this... weird little shop. But it was an entertainingly weird little shop, so naturally, she would also be touching things on the counter.
Message Me • 06:54, January 3, 2020 (UTC)~
「 Zilya Sakellarios-Willow 」Wondrous Witch of The West
If anything was found to be usable, Zilya tried to use it. She couldn't help herself. Her eyes caught the attention of a fancy metal kaleidoscope that, when putting it up to her eye, revealed dancing shapes of colors that magically changed from teals to greens, or oranges to pinks, or yellows to reds. It wasn't the most interesting toys inside the shop, but it was fascinating to Zilya how an item so dull on the outside appeared so lively and beautiful once looking in. Still distracted during those few seconds, she unknowingly bumped into the counter near Kulta and bumped a few objects down. "Oh sorry," she mumbled, putting the kaleidoscope down, but it was unclear if she had said it to the objects, Kulta, or the workers close by. She suspected one might kick her out on the spot, but—phew—they were carried away with their chatting to notice. She started picking up the tiny items dropped that were, thankfully, still intact, looking over at Kulta's direction while doing so. "It's so easy to get distracted in this place. I love it."
Message Me • 04:50, January 17, 2020 (UTC)
Archive
Archive One
Archive Two
Archive Three
Archive Four*Find room here
Archive Five
Archive Six
Archive Seven
Archive Eight
Archive Nine
Archive Ten

Community content is available under
CC-BY-SA
unless otherwise noted.