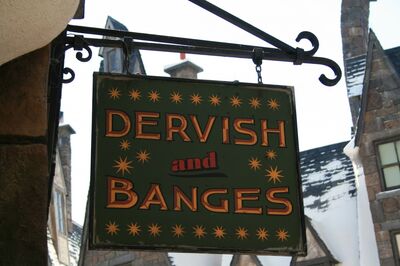 This cosy little shop specialises in every sort of weird and wonderful magical mechanism. Whether it's a glitchy Sneakoscope, rusty hinges on a chest with a Wizard Lock, or the fixing of a magical prosthetic, Dervish and Banges is here to service your machine, and your needs. For larger devices we obviously provide on-site services, with a range of fees to reflect the difficulty of the work, and the specialisations and expertise required.
If you can't think what brought you in, we can always sell you a Remembrall, so it won't happen again!
Don't let the name put you off -
things go smoother when you've been here; less manic whirling, and fewer explosions.
Dervish and Banges Merchandise
Magical Devices
Anti-Burglar Buzzer
Anti-Muggle Doorknob
Enchanted Razor
Magical Clock
Magical Map
Lunascope
Omnioculars
Penknife
Pensieve
Remembrall
Revealer
Seven-Lock Trunk
Wand Weigher
Wizard Lock
Other Equipment
Telescopes
Cauldrons (Pewter, Brass, Copper)
Scales
Phials
Quills
Ink
Special Requests
Dark Detectors
Foe-Glass
Probity Probe
Secrecy Sensor
Sneakoscope
Proprietor and Employees
Roleplay
Logan Amador Slytherin in perfection
-"Don't just sing it, bring it!"
 – 09:09, February 10, 2019 (UTC)

*His foot literally falters on the threshold, finds a non-existent splinter to snag on, and he half-stumbles inside, righting himself just before he wipes out a display of Omniscopes. Then - he stands there ... blinking.*
Archive
Archive One
Archive Two
Archive Three
Archive Four*Find room here
Archive Five
Archive Six
Archive Seven
Archive Eight
Archive Nine
Archive Ten

Community content is available under
CC-BY-SA
unless otherwise noted.