Welcome to the Request for Permissions!

Requirements
Chat Mod
Granted automatically when Rollback status is granted.
Awarded individually in extreme cases for widespread chat coverage.
N/A
Rollback
You should have no history of vandalism.
You should be a trusted member of the community.
You should have at least 200 edits.
You should have been active on the wiki for at least 3 weeks, though a month is preferable.
One needed
Sysop/Administrator
You should be a trusted member of the community.
You should have a strong history on this wiki. We don't accept people who have only edited a few times.
You should have no history of vandalism.
You should know how to code a wiki correctly.
You must already have rollback privileges.
None Needed
Bureaucrat
You must have administrator rights.
You should be a trusted member of the community.
You should have no history of vandalism ON ALL OF WIKIA.
You should be trusted by all the Bureaucrats.
None Needed
Request Outline

User Name:
Amount of Edits:
Amount of Characters: Reasons why you think you would be a good addition as an admin:
Any Other Things you want to add:

Past Requests
Requests
Nominations will end the Twenty third of July UTC.


HR elections
Please note that you need to be nominated by three non-admin team users in total to qualify for HR. One NAT member needs to nominate you and the two others will need to back their nomination. There are two rollbacks and one admin position available.
Elections
Please note that the above qualifications do not apply for the other departments and you are free to be nominated by someone else (including those on the admin team) or nominate yourself. There is one rollback position for C&L available.
Aera
User Name: Aeradise
Amount of Edits: 7,590 + 1,571 = 9,161
Amount of Characters: 24?? 26?? I'm working out the masterlist right now
Any Other Things you want to add: Hi! My name is Aera, with a record of possibly five username changes under my belt since joining DARP (we don't discuss them though). I've been a consistent part of the DARP community since early 2018, though I do have record of joining as early as 2016. I've been on the admin team as both a rollback and an admin and have worked under all the departments bar HR. While I did step down in September 2019, that was due to personal issues that resulted in me leaving DARP entirely for a little while. Now that I have returned and been consistently active for almost a whole year now, I think I'm finally comfortable with hopping back on the admin team, and I'd like to start here!
With the influx of old users returning and the sudden uptake in character making, since I'm online pretty much all the time (I live in UMT-5 and have an okay sleeping schedule) and have plenty of free time partially due to the current global environment as well as I just don't like having to expend more energy than I need to doing extracurricular activities, I can fill in for all the times the current members of the CL department aren't around, and I have experience in the department as well, which will make the transition back into rollback fairly smooth bar interviews, which came into sorting while I wasn't rollback and will have to spend a bit of time to getting used to sorting.
I believe it's always important to have friendly faces working in a department like this, and not only are the current members of CL some of the most friendly people I know, they do their job well and set a standard I hope to match as rollback. As far as I'm aware of (based on perceptions of me by other users), I'm pretty friendly and in my own, odd way, charismatic. I think my addition (or I guess, re-addition, I'm not sure which word to use here) to the admin team would be a great use of my time, and I get to give back to a community that I'm very dedicated to. Thank you so much for considering.
Results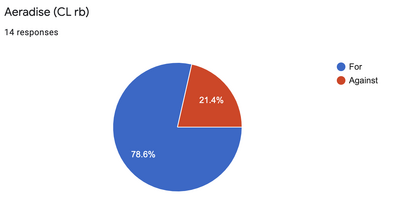 Aera has been made C&L rollback. As there were no applicants for HR, the positions will remain empty until the next election. Thank you!
Vote
Voters
- ateleia
Community content is available under
CC-BY-SA
unless otherwise noted.