Note
: This topic has been unedited for
184 days
. It is considered
archived
- the discussion is over. Do not add to unless it
really
needs a response.
with love,
filok
senia
---
Background

1) Write about your character's appearance. What do they look like? Please include both the model's name and a picture.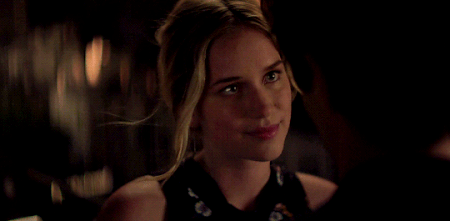 Ali's faceclaim is Elizabeth Lail.

2) Is your character a Pure-Blood, Half-Blood or Muggle-Born? Do you have any notable magical relations? This does include a roleplayed family. (Remember, you cannot be related to important characters from the Harry Potter Universe!)
She's a pure-blooded witch descended from one of the original 12 aurors of MACUSA, Robert Grimsditch.
3) Is your character considered exotic? If so, what category do they fall under? Part or half of that magical race counts! Remember, you must do at least two questions related to your exotic in the interview!
Alexandra is not considered "exotic".
4) What is your character's profession? Does your character plan to enrol your character into the Ministry of Magic? Does your character not work? Is your character a teacher?
In the United States, she was employed as a healer, which she's looking to continue through St. Mungo's.
---
Interview
Remember you must answer at least ten questions with substantial detail. This excludes any compulsory questions. So eleven questions in total. All answers must be answered in-character, as if you are role-playing them being interviewed. Please note, you can answer the questions in internal thoughts if the character doesn't want to verbally answer it!
What was your first incident of magic and how old were you? (Compulsory)
「 Alexandra "Ali" Grimsditch 」Pukwudgie Alumna • Healer
「 Relationship 」
Single, looking
Ali shrugs. She doesn't remember what it was or how old it was, because for as long as she can remember, she's been capable of magic. She isn't wrong, either. While it rarely happens, her magic manifested as soon as she was born. Little do her parents know, her first manifestation wasn't making it rain whenever she cried as an infant. It was restarting her own circulatory system when the umbilical cord was choking her. She saved herself, and nobody even knows it.
Message Me • 23:14, January 2, 2020 (UTC)
Do you believe in love at first sight?
「 Alexandra "Ali" Grimsditch 」Pukwudgie Alumna • Healer
「 Relationship 」
Single, looking
She shakes her head. "I find it difficult to believe love at first sight is real. It might sound romantic, but it's impractical. Falling in love with someone's physicality is shallow. What if they're someone who wants to hurt you, or someone who simply wouldn't be able to give you the kind of love you deserve? It's not safe."
Message Me • 23:14, January 2, 2020 (UTC)
Were you close with your family growing up? If not-why?
「 Alexandra "Ali" Grimsditch 」Pukwudgie Alumna • Healer
「 Relationship 」
Single, looking
Ali smiles wryly. "I'm one of twelve children. It certainly made for a peculiar experience growing up. We weren't all very close, as we formed our own cliques over time, but we're still a family. We look after each other. We protect each other. We still love each other."
Message Me • 23:14, January 2, 2020 (UTC)
What would you say to your younger self and what would they think of you?
「 Alexandra "Ali" Grimsditch 」Pukwudgie Alumna • Healer
「 Relationship 」
Single, looking
She takes a deep breath. To a certain level, she'd been expecting this question, but to actually be facing it was another matter altogether. "I think... I think I'd tell myself to be brave. Everything will get better." Ali nods. That's not all she'd tell herself, though. She'd tell her not to trust Bentley, to convince her parents to let her go to Hogwarts, to protect and prioritize herself. "I... don't know what they'd make of me. Proud, perhaps?" Or horrified by all the things I let happen to me.
Message Me • 23:14, January 2, 2020 (UTC)
If you're not native to the UK, where were you born and how did you end up in the UK?
「 Alexandra "Ali" Grimsditch 」Pukwudgie Alumna • Healer
「 Relationship 」
Single, looking
"I am not native to the UK," Ali confirms. "I'm from the United States. I came to the United Kingdom looking for a fresh start. The United States was... not a kind place to me. Too many horrible memories, regardless of where I was. I did a semester abroad at Hogwarts in my sixth year, and I fell in love with the UK. So as soon as I graduated, I trained to become a healer. I stuck around for a while to help my parents with the bills and my younger siblings, but as soon as I got the chance, I booked a flight and never looked back."
Message Me • 23:14, January 2, 2020 (UTC)
Do you believe people can be given a second chance?
「 Alexandra "Ali" Grimsditch 」Pukwudgie Alumna • Healer
「 Relationship 」
Single, looking
"Oh, a tricky one." Ali smiles faintly. For her, it all depends on the severity of whatever the person has done. Things like what Bentley did certainly don't merit second chances, but if someone like Taylor was to say a little white lie, chances are she has her reasons and should definitely be given her chance to explain herself. "I think... it should be the discretion of the person that got hurt. Nobody is entitled to anything."
Message Me • 23:14, January 2, 2020 (UTC)
Do you have instances in your past that you'd prefer not to tell people?
「 Alexandra "Ali" Grimsditch 」Pukwudgie Alumna • Healer
「 Relationship 」
Single, looking
Ali looks at you incredulously. "Why would I tell you something I wouldn't want to tell people?" To put it simply, yes, there are. Being sexually assaulted at age 16 by someone she thought was the love of her life is simply not the kind of knowledge she wants other people to have. Nobody needs to know of the pregnancy that resulted from that sexual assault, how she miscarried the fetus, and how she spiraled following those heavy losses. She was a drunk, a drug addict, and almost ended up homeless.
Message Me • 23:14, January 2, 2020 (UTC)
If you could go to any other magical school other than Hogwarts, which one? Why?
「 Alexandra "Ali" Grimsditch 」Pukwudgie Alumna • Healer
「 Relationship 」
Single, looking
"Sadly, I did not study in Hogwarts. I was a student at Ilvermorny. Nonetheless, I did attend Hogwarts for half a term and can say with certainty I would have preferred to be a full-time student there. It's not to say I'm not proud of my alma matter, because I am, but I can't help but think that many of the hardships I've had in my life... wouldn't have occurred had I studied in the United Kingdom," she explains. "Ilvermorny is beautiful, no doubt about that, but I find ancient castles to have a certain allure that Ilvermorny didn't have."
Message Me • 23:14, January 2, 2020 (UTC)
What did your parents do for a living?
「 Alexandra "Ali" Grimsditch 」Pukwudgie Alumna • Healer
「 Relationship 」
Single, looking
Where there was once a serious look on her face, there is now a proud, duchenne smile. "My mother just finished her second term as vice-president of the Magical Congress of the United States of America. My father served the country as a part of the Auror Force and was even Head of the Department of Aurors for quite some time." Ali pauses for a moment, deliberating how to break the news when she knows her mother has yet to announce her future aspirations. "As it is, my mother currently has plans to campaign come the next elections to become the next President. Her work, like my father's once was, is time consuming, but they're both very passionate and have admirable work ethics, which I can only hope to replicate in my career as a healer."
Message Me • 21:13, January 2, 2020 (UTC)
Do you have any mental or physical afflictions?
「 Alexandra "Ali" Grimsditch 」Pukwudgie Alumna • Healer
「 Relationship 」
Single, looking
It's then that Ali becomes considerably more somber. She purses her lips. She's never been a fan of delving into her experiences with her mental afflictions unless it's required by law or for any interview. Her disinterest in making her problems known are obvious by the look on her face and the accompanying shrug. "Nothing I haven't learned to cope with," she says. Sadly, the truth of it is that she struggled for many years with her mental health. Following her sexual assault, unwanted pregnancy, and later miscarrying the fetus, she fell down a dark rabbit hole. She was depressed, attempted suicide several times, and turned towards drugs, alcohol and smoking as a source of relief. Over time, she was able to get out of that dark hole, but it's still something she struggles with from time to time, especially when she's faced with great stress.
Message Me • 21:13, January 2, 2020 (UTC)
Do you think you're prejudiced or have a certain bias?
「 Alexandra "Ali" Grimsditch 」Pukwudgie Alumna • Healer
「 Relationship 」
Single, looking
Okay. An easy one. "Yes. I believe I'm biased against men. For as horrible as it sounds, my own experiences have made me wary of their true intentions," Alexandra shrugs. It's not that she abhors all of them. She simply cannot bring herself to trust any after everything she went through.
Message Me • 23:14, January 2, 2020 (UTC)

Is there any other information you want to add? (History/Personality, dot points or trivia can be included here! Future plans, what you want for this character etc. This is not compulsory, though.)
History has always had a tendency to repeat itself, hasn't it?

For the Grimsditch family, it all goes back to the origins of the Magical Congress of the United States of America. Like its non-magical side a century later, it was a government founded on the bones of heavy loss. As the result of the Salem Witch Trials, the International Statute of Secrecy was introduced, and with it, a new sense of secrecy that demanded a new governing entity for the freshly-formed society. Josiah Jackson was seen as a fit president, presumably embodying all the qualities the wizards of the region wanted in their leader: strong, courageous, and not easily deterred by the acts of aggression stemming from the Salem Witch Trials. Among the first tasks he and his new government undertook was the trial of the Scourers, but it wasn't possible without the original twelve aurors. They'd required a body that would be able to protect and defend their rights and lives from those who means harm, and successfully found it when Robert Grimsditch and another 11 wizards volunteered. Knowing very well the ultimate sacrifice their job might require, they still undertook the responsibilities, thus earning them the respect of the rest of the country. That respect is still seen towards their descendants to this day.

Although Robert's descendants were not as politically active as Gondulphus Graves', they've all been careful not to tarnish the family's reputation. Most pursued scholarly careers, preferring to teach over fight, create over destroy, and act instead of blindly promise. For well over three centuries, the Grimsditch family did well to avoid falling under the political limelight, but it all came to a screeching halt when Adam Grimsditch became of age. Though he was the son of two respected Ilvermorny professors, Adam Grimsditch was the kind of man who upheld the rules and always wanted to see justice served. He wasn't rancorous, of course, but he was the kind of young boy who refused to let a problem go if he felt someone had been done wrong and it hadn't been fixed. It often got him in trouble with his professors and his family. They wanted him to be like his siblings: quiet, well-behaved, malleable. He was unabashedly bold, and often spoke of his dream to become the Head Auror at MACUSA. While his family was disappointed in what he wanted to do with his life, they weren't any less supportive of his aspirations than they were of his younger sister's ambition to become the next Headmistress of Ilvermorny. Though she didn't see complete success, only ever reaching Deputy Headmistress, Adam thrived in unimaginable ways. He joined the auror force at the young age of 17, freshly out of Ilvermorny. He didn't graduate with the #1 spot in his class, only because he took two years in one and relied on summer breaks to cut ahead of his peers. Had he dedicated more time, the fruits of his labors would have certainly been a lot better. Still, ranking 8 of over 200 was definitely something good.

After successfully completing three years of training, Adam quickly rose through the ranks. By age 25, he was already Deputy Head Auror, but it wasn't enough for the ambitious man. He worked diligently, arriving early and leaving late. His record was phenomenal. Eventually, his savviness as an auror caught the attention of Alexandra Wilkinson. She, like him, was a descendant of one of the original twelve, but she didn't share their - and by extension his - respect for their "duty". She was a politician through and through, working as Secretary of Foreign Relations. She was a force to be reckoned with, but she was still a big political target. When faced with a conference she needed to attend all the way in Ireland, she specifically requested him to be her security detail. Much to his chagrin, it was approved, and they were soon sent off to Ireland. Initially, they didn't really mesh well. He'd been about to close a very important case when he was pulled to Ireland, and was thus very annoyed. Looking at her was enough to remind him and make him angry all over again. Meanwhile, she was offended by his very thoughts. It certainly made for some lengthy arguments. Nonetheless, as time went on, they found themselves bickering less and less with each other and instead getting to know one another better. By the time they'd returned, they certainly weren't friends, but they didn't want to get into a fistfight every time they made eye contact. It was progress. Following their return, they quickly realized they had some friends in common; friends who cheekily set them up on a blind date. Those same friends continue to be very smug about the fact that, three years later, they were married and already welcoming their firstborn child.

Even when they started building a family together, Adam and Alexandra didn't slow down in their careers. If anything, it was the encouragement they needed to work harder. If not for themselves, then to provide their children with everything they needed and cared for. This motivation is primarily what spurred Adam to work his way up to Head of the Department of Aurors, and Alexandra towards accepting a job as Chief of Staff. It wasn't what she was used to, but it did set her on course to become Vice President of the United States, which she's been told once or twice she was very good at. Over time, their family grew exponentially. What was just a family of two slowly became a family of fourteen. Twelve children was a lot, no doubt, but their shared wealth and the endless support they received from their likewise large families helped a lot. Even growing up in front of the entire country, Adam Jr., Alexandra Jr., Richard, Taylor, Siobhan, Noah, Wesley, Wyatt, Brooklyn, Lucas, Dansby, and Simon thrived - or at least that's what everyone thinks. While we won't go into the details of it all, some certainly fell by the wayside. But, for the most part, Adam and Alexandra juggled their children and careers exceptionally. In 2034, Alexandra campaigned with a Presidential Candidate as VP, and won the election. She served as Vice President until January of 2043, when she was forced to vacate the office as the law mandates. Sadly, the new occupants of the White House are, ah, unsavory people who will no doubt run the country to the ground, much like Alistair Fitzgerald did to the magical UK, and much like Donald Trump did to the no-maj United States. As hints of the fallout began to emerge, Alexandra and Adam, who by that point had already retired and taken a more "supportive husband" kind of role, began to send their kids off one by one to the United Kingdom, where they were hoping they'd have to deal with as little of their new problem as possible.

The plan, until now, is to wait until the next elections, at which point Alexandra will run for President of the Magical Congress of the United States of America.
OOC Questions
1) Is this your first character?
A. This is my first character.
B. No, this is not my first character.

2) If your answer to the previous question is B, how many characters do you have? How many of them are "exotic"? If you do have exotic characters, please list both the name and the type of exotic. Remember you are only allowed one of each type with the exception of nymphs.
I have 5 major characters, 1 of which is a vampire. I also have one child character.
3) Would you like your character to be sorted into a Hogwarts House?
Yes, please! I'd assume she was sorted into a house during her exchange period. Just not sure what.
Comments
Community content is available under
CC-BY-SA
unless otherwise noted.