Note
: This topic has been unedited for
313 days
. It is considered
archived
- the discussion is over. Do not add to unless it
really
needs a response.

Been through some bad shit, I should be a savage,
who woulda thought it'd turn me to a sad bitch?

---
The Character's Background
1) Give a description of your character's personality. It must be at least two paragraphs long, seven sentences each.
Ezra is a positive person who can rarely be contained by the world. Always with a smile on his face, he moves through the world with the determination to make everyone around him happy and in love with the world. Outspoken and dramatic, Ezra can rarely keep his mouth shut. It is obvious when Ezra enters a room simply because of how loud he is. Not that he's annoying or obnoxious. No, Ezra tends to be the type of person that can get along with anyone–too a degree. He has little time to those who are homophobic or racist, though he does try to be cordial. Ezra's incredibly open about his political views, even when on live T.V when who knows is watching. Ezra is well aware of the situation he faces in real life, especially under the current minister of magic, and he despises it.
Regardless of the political situation, Ezra is confident and stylish. In fact, he's almost the definition of the flamboyant gay man. Over the top, confident and colorful, Ezra doesn't shy away from his sexuality like he once did as a teenager. No, now a days, he embraces it and is almost sorry for those who mistake him as a heterosexual. Of course, his sexuality doesn't make up the bulk of his identity. No, the bulk of his identity is food. Ezra loves his food, he loves to create with his cooking and can spend hours in the kitchen. It's what got him his spot on the show. Ezra doesn't have a favourite cuisine and is a jack of all trades in the kitchen, though he finds himself leaning a lot to Asian when he's home alone cooking for himself.
Ezra loves cats. More so than any other animal and he has adopted five different species of cats who he spoils dearly. To him, they're his children and the havoc they bring never dampens his love for them. Even when his family complains about the destroyed couches. He pays for the repairs. And anyway, someone had closed the door so they couldn't get to their scratching posts, so it wasn't their fault. Ezra's the type of person to create a thousand different excuses in order to find reasons to not be mad about those he loves, whether it be animals or people. Ezra finds it difficult to let go of even the most toxic of people and tries his best to fix them before realising he can't help those who are so set in their ways. Ezra wants to help people, he's a helper and goes out of his way to do so. The perfect candidate for the show, really.

2) Write about the history of your character. How did they grow up? Is there an incident that made them the way they are? It must be at least three paragraphs long, seven sentences each.

Mary was born on 8 December 1542 at Linlithgow Palace, Scotland, to King James V and his French second wife, Mary of Guise. She was said to have been born prematurely and was the only legitimate child of James to survive him. She was the great-niece of King Henry VIII of England, as her paternal grandmother, Margaret Tudor, was Henry VIII's sister. On 14 December, six days after her birth, she became Queen of Scotland when her father died, perhaps from the effects of a nervous collapse following the Battle of Solway Moss, or from drinking contaminated water while on campaign.
A popular tale, first recorded by John Knox, states that James, hearing on his deathbed that his wife had given birth to a daughter, ruefully exclaimed, "It cam wi' a lass and it will gang wi' a lass!" His House of Stuart had gained the throne of Scotland by the marriage of Marjorie Bruce, daughter of Robert the Bruce, to Walter Stewart, 6th High Steward of Scotland. The crown had come to his family through a woman, and would be lost from his family through a woman. This legendary statement came true much later—not through Mary, but through her descendant Queen Anne.
Mary was baptised at the nearby Church of St Michael shortly after she was born. Rumours spread that she was weak and frail, but an English diplomat, Ralph Sadler, saw the infant at Linlithgow Palace in March 1543, unwrapped by her nurse, and wrote, "it is as goodly a child as I have seen of her age, and as like to live."
As Mary was an infant when she inherited the throne, Scotland was ruled by regents until she became an adult. From the outset, there were two claims to the regency: one from Catholic Cardinal Beaton, and the other from the Protestant Earl of Arran, who was next in line to the throne. Beaton's claim was based on a version of the king's will that his opponents dismissed as a forgery. Arran, with the support of his friends and relations, became the regent until 1554 when Mary's mother managed to remove and succeed him.
King Henry VIII of England took the opportunity of the regency to propose marriage between Mary and his own son and heir, Edward, hoping for a union of Scotland and England. On 1 July 1543, when Mary was six months old, the Treaty of Greenwich was signed, which promised that at the age of ten Mary would marry Edward and move to England, where Henry could oversee her upbringing. The treaty provided that the two countries would remain legally separate and that if the couple should fail to have children the temporary union would dissolve. However, Cardinal Beaton rose to power again and began to push a pro-Catholic pro-French agenda, which angered Henry, who wanted to break the Scottish alliance with France. Beaton wanted to move Mary away from the coast to the safety of Stirling Castle. Regent Arran resisted the move, but backed down when Beaton's armed supporters gathered at Linlithgow. The Earl of Lennox escorted Mary and her mother to Stirling on 27 July 1543 with 3,500 armed men. Mary was crowned in the castle chapel on 9 September 1543, with "such solemnity as they do use in this country, which is not very costly" according to the report of Ralph Sadler and Henry Ray.
Shortly before Mary's coronation, Scottish merchants headed for France were arrested by Henry, and their goods impounded. The arrests caused anger in Scotland, and Arran joined Beaton and became a Catholic. The Treaty of Greenwich was rejected by the Parliament of Scotland in December. The rejection of the marriage treaty and the renewal of the Auld Alliance between France and Scotland prompted Henry's "Rough Wooing", a military campaign designed to impose the marriage of Mary to his son. English forces mounted a series of raids on Scottish and French territory. In May 1544, the English Earl of Hertford (later Duke of Somerset) raided Edinburgh, and the Scots took Mary to Dunkeld for safety.
In May 1546, Beaton was murdered by Protestant lairds, and on 10 September 1547, nine months after the death of Henry VIII, the Scots suffered a heavy defeat at the Battle of Pinkie Cleugh. Mary's guardians, fearful for her safety, sent her to Inchmahome Priory for no more than three weeks, and turned to the French for help.
The French king, Henry II, proposed to unite France and Scotland by marrying the young queen to his three-year-old son, the Dauphin Francis. On the promise of French military help, and a French dukedom for himself, Arran agreed to the marriage. In February 1548, Mary was moved, again for her safety, to Dumbarton Castle. The English left a trail of devastation behind once more and seized the strategic town of Haddington. In June, the much awaited French help arrived at Leith to besiege and ultimately take Haddington. On 7 July 1548, a Scottish Parliament held at a nunnery near the town agreed to a French marriage treaty.
With her marriage agreement in place, five-year-old Mary was sent to France to spend the next thirteen years at the French court. The French fleet sent by Henry II, commanded by Nicolas de Villegagnon, sailed with Mary from Dumbarton on 7 August 1548 and arrived a week or more later at Roscoff or Saint-Pol-de-Léon in Brittany.
In November 1558, Henry VIII's elder daughter, Mary I of England, was succeeded by her only surviving sibling, Elizabeth I. Under the Third Succession Act, passed in 1543 by the Parliament of England, Elizabeth was recognised as her sister's heir, and Henry VIII's last will and testament had excluded the Stuarts from succeeding to the English throne. Yet, in the eyes of many Catholics, Elizabeth was illegitimate, and Mary Stuart, as the senior descendant of Henry VIII's elder sister, was the rightful queen of England. Henry II of France proclaimed his eldest son and daughter-in-law king and queen of England, and in France the royal arms of England were quartered with those of Francis and Mary. Mary's claim to the English throne was a perennial sticking point between her and Elizabeth I.
When Henry II died on 10 July 1559 from injuries sustained in a joust, fifteen-year-old Francis and sixteen-year-old Mary became king and queen of France. Two of the Queen's uncles, the Duke of Guise and the Cardinal of Lorraine, were now dominant in French politics, enjoying an ascendancy called by some historians la tyrannie Guisienne.
In Scotland, the power of the Protestant Lords of the Congregation was rising at the expense of Mary's mother, who maintained effective control only through the use of French troops. The Protestant Lords invited English troops into Scotland in an attempt to secure Protestantism, and a Huguenot rising in France, called the Tumult of Amboise, in March 1560 made it impossible for the French to send further support. Instead, the Guise brothers sent ambassadors to negotiate a settlement. On 11 June 1560, their sister (Mary's mother) died, and so the question of future Franco-Scots relations was a pressing one. Under the terms of the Treaty of Edinburgh, signed by Mary's representatives on 6 July 1560, France and England undertook to withdraw troops from Scotland and France recognised Elizabeth's right to rule England. However, the seventeen-year-old Mary, still in France and grieving for her mother, refused to ratify the treaty.
Months later, on the fifth of december, King Francis II died. Whilst afterwards a tumultuous period ensued for Mary, leading to her ultimate demise, very few were aware of that period of uncertainty leading to the death of King Francis II. Conceived on a night where grief turned into angry passion, her pregnancy with Francis III wasn't discovered until after the father had passed. And, in fears of having tarnished her own reputation, the babe was swiftly given away just hours after his secret birth, several weeks prior to her arrival at Leith. Passed off as the child of two members of the middle class, Francis never truly struggled during his life, but was always left questioning just who he truly was - and it wasn't until years later, on his deathbed, that he discovered the truth about his heritage. But by then, it had been too late.
Centuries after the Francis III came Émeric Stuart. Seeking to honor the family lineage, the Stuart line lived on through both the men and women of the House of Stuart. Whilst having lost their claim to the throne via Francis III's secret birth, a fact reaffirmed at the appearance of magical blood in the lineage, pride over their family has never faltered. Though riddled with conflicts, the Stuarts have always regarded their history with respect, and though they've sought to learn from past mistakes, have become more politically inclined in recent times. Declared magical nobility upon the separation of the muggle and wizard monarchies, and being recognized as members of the previously lost House of Stuart, the family has always been regarded with respect by many of their class.
Honoring his ancestors' previous position of power, Émeric strived to become the next Minister. While wholly unsuccessful in his endeavors, achieving Head of Magical Law Enforcement ushered in a new era for the House of Stuart. Generation after generation, the family became renowned for its ambitious members, who, despite not receiving Lordship, have still managed to rise to power over and over, conceiving great warlocks. From Head Aurors to Undersecretaries to Department Heads, there has never come a point in time wherein the Stuart lineage has failed to make itself publicized and praised for its successful exploits in the Ministry. They were among the first to invest their wealth in the magical populace, funding the creation (and eventual revitalization) of landmarks such as Diagon Alley, Hogsmeade, and are rumored to be partof the reason why Hogwarts grew so much in the 19th century). Nevertheless, over and over they've proven themselves to be an iconic House whose goals are to support its Monarchy (and population) in every way possible.
Approaching more recent times, Renaud Stuart was no exception to the family's proclivity for positions of power. He rose through the ranks, achieving the position of Hit Wizard, Head Auror, Head of Law Enforcement, and ultimately staying as Senior Undersecretary until his eventual retirement. He contributed immensely during the World Wars, and the Wizarding Wars were no exception despite his advanced age. Like him, his firstborn James was successful in his mission to become an auror. Furthermore, it wasn't the kind of job he desired to have. Thus, he opened his own law firm, but was known mostly for pro bono cases that helped the less fortunate, regardless of the usual 'limitations' lawyers at the time imposed on their potential clientele (read: things they couldn't help). Being firm believers in equity, no Stuart ever treated everyone the same, but rather sought justice for all.
His eldest son was also named James, but unlike his father, he didn't strive for greatness. He wanted to honor his family, like every other Stuart, but he wanted to do it in a less extraordinary way. He, to an extent, wanted to live an idyllic life - or at least as close as he could get, being the member of such a powerful family. Having been a particularly... odd Gryffindor, many were surprised to hear he ended up marrying Frances Grey; an intense woman who carried a fiery passion for politics. Her, marrying the Charms professor? It was virtually impossible to believe, and the idea of them leading a successful marriage was almost worth laughing at, but to the surprise of many, they've been together for several decades now, conceiving several beautiful children along the way.
Ezra Stuart was the oldest of the four children with his first sibling being born five years after him. Growing up, Ezra was often a little….flamboyant. Ezra can't count how many times his mother found Ezra raiding her closet, wearing heels and a feathery scarf wrapped around his neck. Ezra was a bright boy though and always had a smile on his face. He was always willing to include everyone around him in his games and never had a mean word to say to anyone. Even those kids at school who picked on him. Ezra found himself being around his cousins more frequently than he was with friends at school, though. Well, it was hard not too. They were shoved into the same huge mansion.
Ezra was initially sent to a muggle primary school in order to make sure Ezra was immersed in that culture. Yes, they were purebloods but they weren't supremecist. In the next three years, Ezra went to five different primary schools, though, before eventually being pulled out to be homeschooled. Ezra struggled to fit in each time. Sometimes it was because he was the new kid, other times it was because Ezra was small and thin as a child, other times it was because of petty things such as how he ran, other times it was because of how bad he was in sports. Each time though he often came home in tears. For Frances and James, their first solution was to talk to teachers then move to a different school but they eventually realised that Ezra was happier at home, with his cousins and family. The one place Ezra fit in and was happy.
There was one place that Ezra flocked too. That was the kitchen. Whenever his parents couldn't find their son, they'd head straight into the kitchens and find him with one of the cooks helping with dinner or dessert. Dessert was his favourite meal, of course, and there were times Ezra was covered head to toe in flour but he didn't care. He was always overjoyed and over the moon during those times. His favourite activity was making something and giving it to someone else. Whether it be one of his cousins or his parents, he use to make them sit down and be forced to taste test his creations. Usually, they were an alright success, sometimes they were inedibly, but over the years, Ezra got better and it was a hobby he took into his adulthood and made a career out of. It was through cooking that Ezra had his first magical incident. It was during his ninth birthday party and Ezra made his cake explode. He'd accidentally found out that his mother was pregnant and, out of simple surprise, his birthday cake exploded, flying into a good chunk of the crowd's face. Safe to say, the party was quickly wrapped up.
Seeing as he was so young when Marian was born, Ezra got his first taste of babies when Adelaide was brought into the world and he was both fascinated and concerned. Ezra always made sure she was safe. Frances often commented she didn't need to make sure her daughter was still sleeping because Ezra would be checking every other half hour. Ezra was always willing to help with the baby whenever he could. Warming up the bottle of milk, playing with her, making sure she wasn't cold. Small things that Ezra took very seriously. When he got his Hogwarts acceptance letter, Ezra was more sad than happy. He didn't want to leave his family. He was scared about how he'll be treated there, that it would be like the primary schools. However, his parents eventually coaxed him into getting onto that train with the promises of lots of letters, lots of chocolates being sent his way, and that he'll be back home by Christmas which wasn't so long away. The first few years of Hogwarts was good. Ezra had friends and did okay at classes. Ezra was never a fan of quidditch and first year of flying lessons made him cry.
It was during fourth year that this shifted. Ezra had met this boy. He was from Durmstrang and had recently transferred that year. They instantly clicked and it took only a few months for Ezra to realise he had fallen for him. Did Ezra have suspicions before that that he was gay? Of course, it had been at the back of his mind but he never had reason to face it. Never had reason to start questioning his sexuality. Until the transfer. It took until fifth year before Ezra accidentally kissed him. Luckily for him, Ezra was reciprocated. Or so he believed. For a month or two, they were in their honeymoon stage. Sneaking kisses in empty classrooms and hallways, passing love notes in class. No one suspected anything.
It shifted halfway through fifth year. Ezra wasn't sure why the student did it. Why he even decided to play along with Ezra in the beginning. Supposed he wanted to play him, have something to laugh about with his other friends behind Ezra's back. The fling ended with the Durmstrang student outing Ezra and his sexuality in front of the entire school. Of course, Ezra wasn't completely ashamed of his own sexuality but he felt like he had the right to tell people in his own time. Of course, the event broke his heart even though most people supported him. Naturally, word got back to his family and Ezra was forced out of the closet before he felt it right. He cut the transfer student out of his life but he need not had too. The boy was sent back to Durmstrang in a few months regardless.
Ezra spent the next few years too himself, graduating Hogwarts with okay marks. Not the worst, better than average, but they weren't the top marks. Afterwards, he refused to enter the ministry like the rest of his family. It wasn't something he wanted to do and it didn't suit him. Instead, he worked odd jobs here and there. Unfortunately, Ezra found himself falling into a deep depression. The only times he got out of bed was to go to work or take care of his bodily needs. The only good thing was that he never moved out so he wasn't completely isolated from his family and still kept in contact. Nothing dramatic came out of this. He didn't do anything, he just...slept.
It wasn't until he was twenty did he pull himself out of this slump. He'd been fired from job to job for different reasons, including lateness and attitude, but eventually he found himself working in a restaurant as a kitchen hand. It was here that his love for food was reignited. He enrolled into cooking classes both in the wizarding world and the muggle world to build up his skills and soon he was working as a cook in a restaurant. From there, everything went up. By twenty three, he was opening his own restaurant with his own menu and everything and had gained a good reputation in the wizarding community. His restaurants have been known to be innovative and creative, a mixture of cultures, and when he was twenty four–he was invited to Queer Eye. The T.V show based on a muggle show. After a week of deliberation, he decided to take it, hoping it will produce some positivity and attention for his restaurant.
3) Write about your character's appearance. What do they look like? Are you planning on using a certain model for your character? If you already have a picture in mind, you can put it here!
FC: Zac Efron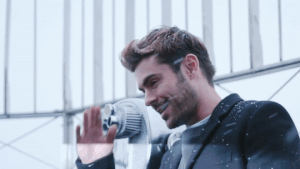 4) Is your character a Pure-Blood, Half-Blood or Muggle-Born? Do you have any notable magical relations? (Remember, you cannot be related to important characters from the Harry Potter Universe!)
Pureblood, related to the Stuart family
5) Does your character have any special magical abilities? Or special abilities in general (photographic memory, etc.)? Is he or she of a different magical race, such as Veela, Vampire, Werewolf or the like? Part or half of that magical race counts! (Remember, you cannot have a character with special abilities/of a different magical race as one of your first two characters!)
None
6) What is your character's profession? Does your character plan to enroll your character into the Ministry of Magic? Does your character not work? Is your character a teacher?
He's owner of a restaurant in Lincliff city as well as being apart of the T.V. show 'Queer Eye'
---
The Sorting Quiz

A. Select the option that best fits your character. (Remember, this part is optional for adult characters!)

1. What are you looking forward to learning at Hogwarts the most?
A. Transfiguration
B. Hexes & Jinxes
C. Magical Creatures
D. The castle's secret areas

2. Pick one:
A. Moon
B. Stars

3. If flowers adapted their scent to attract the unwary, what would it smell of in order to lure you in?
A. Freshly baked bread
B. Parchment
C. The Sea
D. A crackling log fire

4. Pick one:
A. Dawn
B. Dusk

5. Four boxes are placed before you. Which one do you open?
A. The ornate one, promising secret knowledge and unbearable temptation
B. The small, pewter box that reads "I only open for the worthy"
C. The gleaming black box marked with Merlin's rune
D. The small, tortoiseshell box, embellished in gold, with a small, squeaking creature

6. Pick one:
A. White
B. Black

7. What road tempts you the most?
A. The cobbled street lined with ancient buildings
B. The narrow, dark, lantern-lit alley
C. The twisting, leaf-strewn path through woods
D. The wide, sunny, grassy lane

8. Pick one:
A. Forest
B. River

9. What scares you most?
A. Speaking in such a silly voice, people will laugh at you and mock you
B. An eye at the keyhole of the dark, windowless room where you're locked
C. Standing on top of something high, without anything to stop you from falling
D. Waking up and realizing your family & friends don't know you

10. It's late, you're walking alone, and hear a peculiar cry you believe has a magical source. What do you do?
A. Draw your wand & search for the source
B. Proceed with caution, keep a hand on the concealed wand, and keep an eye out
C. Draw your wand & stand your ground
D. Wait for developments, while mentally reviewing the most appropriate spells
---
OOC Questions
B. Whilst the first two questions will not affect the character's house (and are mandatory), the others are designed specifically to help users come up with their character's ideal job (and are optional).

1) Is this your first character?
A. This is my first character.
B. No, this is not my first character.

2) If your answer to the previous question is B, how many characters do you have? How many of them are "exotic"?
13/2

3) What would people who know your character well say they're really good at?
4) What do they really want to avoid in their job/career? Do they hate working in an office? Do they hate the field?
5) Aside from family and peers, what motivates your character the most in life? What drives their passion?
6) Where does your character's weaknesses lie?
7) Wand cores and woods speak volumes about a person's character. What is your character's wand? Why does it answer to them?
Comments
Ezra Stuart has been registered as a citizen by the British Ministry of Magic!


"Upon the signature of the International Statute of Secrecy in 1689, wizards went into hiding for good. It was natural, perhaps, that they formed their own small communities within a community."
Community content is available under
CC-BY-SA
unless otherwise noted.