Note: This topic has been unedited for 2988 days. It is considered archived - the discussion is over. Do not add to unless it really needs a response.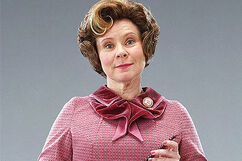 Game Master
Send Me an Owl! - 18:59
Umbridge and many other people went to Azkaban after the battle of Hogwarts. But some like Lucius Malfoy didn't go [1]. With his and some other's help he gets his job as a school governor again and kicks the Headmaster and the Headmistress out. Dolores Umbridge and others take over Hogwarts. Life isn't going well.

Your mission is to get Umbridge and others out of power.
Roleplay Down Here
​
Game Master
Send Me an Owl! - 18:59
So Danny called his friends. He told them that he was going to create an army. Then Umbridge appeared.
Dolores Umbridge - Excuse Me?
Send Me an Owl! - 18:59
Perhaps I heard you wrong Danny did I hear you say you were going to form an army because if you do that will be an offense to the ministry of magic.