Captain:
Allura Mendoza

For the current team go here.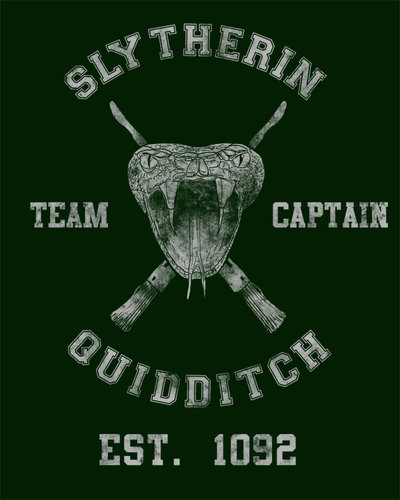 So you think you've got what it takes to be on the Slytherin House Team? Then tryout! Tryout below by putting your character's name and the position you want. Separate them with a dash. ( - )
Ex. Karith Black - Chaser
Let's see what you've got!
Practice is here
A lot of positions are still unfilled. If you're interested in playing Quidditch this year, please sign up!
---
| Topic | Last Edit | Last Author |
| --- | --- | --- |
| Ryleigh Grey - Anything | 03:49, February 13, 2019 | The Highlands Lady |
| Scarlett Irvine - Anything | 13:02, February 4, 2019 | Dirael |
| Riley Lynwood — Beater | 04:53, January 28, 2019 | TakeMeToTheHole |
| Tate Jeon - Anything | 21:16, January 25, 2019 | Brocky292 |
| Elias Di Sena e Bonaparte - Beater (2) | 20:28, January 25, 2019 | Brocky292 |
| Victoria Faye - Seeker | 17:58, January 23, 2019 | NotAHamster |
| Lance Whiteford - Seeker | 18:05, January 21, 2019 | Blue Butter |
| Héloise Malfoy - Keeper (2) | 08:38, January 21, 2019 | Hannahgrace.05 |
| Ludovic Malfoy - Chaser | 03:52, January 21, 2019 | Carnarvan |
| Héloise Malfoy - Keeper | 02:14, October 28, 2018 | SocialCasualty |
| Ludovic Malfoy - Anything | 17:17, October 27, 2018 | SocialCasualty |
| Victoria Faye - Chaser | 17:14, October 27, 2018 | SocialCasualty |
| Luciano D'Ascanio - Anything | 01:19, October 27, 2018 | SocialCasualty |
| Leta Elder - Beater | 00:50, October 27, 2018 | SocialCasualty |
| Cassius Selwyn - Beater | 00:42, October 27, 2018 | SocialCasualty |
| Hekate Sayre - Seeker | 23:38, October 26, 2018 | SocialCasualty |
| Elias Di Sena e Bonaparte - Beater | 22:25, October 26, 2018 | SocialCasualty |
| Phyllis Adair - Beater | 01:28, May 2, 2018 | Sophia McLaren-Cobb |
| Morowa Akoto - Keeper | 20:49, April 30, 2018 | TheRebelOfSlytherin |
| Caelia Avery - Seeker | 19:54, April 26, 2018 | DYSUTOPIA |
| Augustus Gabriel - Chaser (3) | 02:06, April 21, 2018 | Hannahgrace.05 |
| Sasha Stone - Keeper | 16:03, February 20, 2018 | Madelee |
| Wolfie Stone - Beater (7) | 21:25, January 19, 2018 | Zany Knave |
| Augustus Gabriel - Chaser (2) | 14:36, January 17, 2018 | Hannahgrace.05 |
| Teddy Duvall - Beater | 13:32, January 17, 2018 | HaleTheKing |
| Ruiko Takayama - Chaser (2) | 04:19, October 26, 2017 | Aeriesol |
| Maddalena Villanueva - Chaser | 16:32, October 24, 2017 | Queen of Anarchy |
| Augustus Gabriel - Chaser | 01:31, October 23, 2017 | Hannahgrace.05 |
| Elaine Matthews - Keeper | 09:13, October 21, 2017 | Queen of Anarchy |
| Wolfie Stone - Beater (6) | 20:03, October 20, 2017 | Zany Knave |
| Charlotte Lovell-Montcroix - Beater | 21:23, October 17, 2017 | JayeMalik' |
| Ruiko Takayama - Chaser | 13:30, August 4, 2017 | Aeriesol |
| Wolfie Stone - Beater (4) | 16:04, July 18, 2017 | Zany Knave |
| Kohl Dae - Chaser (4) | 17:34, July 15, 2017 | Brocky292 |
| Niamh McCailín - Anything | 17:28, July 15, 2017 | Aeterna Superi |
| Clara Davidson - Anything (3) | 17:23, July 15, 2017 | Ckohrs0221 |
| Valerie Summers - Beater or Keeper | 19:36, July 8, 2017 | Nebuliss |
| Tessa Bellerose - Seeker or Chaser | 18:31, July 8, 2017 | ÉtoileÉternelle |
| Kohl Dae - Chaser (3) | 02:37, April 30, 2017 | Brocky292 |
| Jade Meszaros - Seeker or Anything | 01:47, April 27, 2017 | Queen of Anarchy |
| Clara Davidson - Anything (2) | 02:02, April 21, 2017 | Ckohrs0221 |
| Oriol Garza - Keeper (2) | 00:51, April 21, 2017 | Hecate Grimm |
| Aleks Tereshchenko - Chaser | 22:48, April 20, 2017 | PaintedRed |
| Lærke Tømmeraas - Seeker or Chaser | 21:54, April 20, 2017 | JayeMalik' |
| Leon Chi - Beater | 04:09, January 20, 2017 | Alterdevil |
| Tessa Bellerose - Seeker | 17:51, January 18, 2017 | JayeMalik' |
| Clara Davidson - Anything | 23:36, January 17, 2017 | Ckohrs0221 |
| Wolfie Stone - Beater (3) | 22:15, January 17, 2017 | Zany Knave |
| Kohl Dae - Chaser (2) | 22:12, January 17, 2017 | Brocky292 |
| Wyatt Prescott - Keeper | 22:10, January 17, 2017 | NotAlwaysPerfect |
| Oriol Garza - Chaser | 16:15, October 26, 2016 | Hecate Grimm |
| Max Kowalski - Beater or Chaser | 09:49, October 24, 2016 | HaleTheKing |
| Noland Black-Keeper | 06:26, October 24, 2016 | YouKnowWhooo |
| Wolfie Stone - Beater (2) | 19:45, October 20, 2016 | Zany Knave |
| Kohl Dae - Chaser or Beater | 22:08, October 18, 2016 | Brocky292 |
| Mona Chambers - Anything | 02:45, July 21, 2016 | Ruler of the Shadows |
| Wolfie Stone- Beater | 15:08, July 20, 2016 | Zany Knave |
| Dashiell Ramirez - Chaser | 14:40, July 20, 2016 | Surferdude1219 |
| Oriol Garza - Keeper | 10:11, July 20, 2016 | Hecate Grimm |
| Nicolette Mitchell-Anderson - Chaser (Re-Tryout 3) | 23:02, July 19, 2016 | Sophia McLaren-Cobb |
| Amelie Leclair - Beater (2) | 18:45, July 19, 2016 | ThatBloodyMuggle |
| Sofia Fleming - Seeker | 19:12, July 18, 2016 | JayeMalik' |
| Amelie Leclair - Beater | 23:16, March 16, 2016 | ThatBloodyMuggle |
| Nicolette Mitchell-Anderson - Chaser or Beater | 22:03, January 24, 2016 | Sophia McLaren-Cobb |
| Svetlana Vasilyeva - Chaser | 06:00, January 23, 2016 | CattyTheOrchid16 |
| Tyler Kyo - Keeper | 21:26, January 20, 2016 | JustChase |
| Brandon Drade - Chaser | 02:08, January 20, 2016 | Ruler of the Shadows |
| Elisabeth Vermont - Beater | 21:55, January 19, 2016 | Nebuliss |
| Audi Evans - Chaser (2) | 21:37, January 19, 2016 | DYSUTOPIA |
| Jack Thornburn - Chaser | 16:23, October 22, 2015 | SocialCasualty |
| Nicolette Mitchell-Anderson - Chaser (Re-Tryout) | 16:14, October 22, 2015 | SocialCasualty |
| Joaquin Perez - Beater | 16:08, October 22, 2015 | SocialCasualty |
| Stephanie Schonewise - Chaser or Keeper | 16:00, October 22, 2015 | SocialCasualty |
| EQ Evans - Beater (Re-Tryout) | 15:56, October 22, 2015 | SocialCasualty |
| Aikaterine Vassalos - Seeker | 15:52, October 22, 2015 | SocialCasualty |
| Nolan Cook - Keeper | 03:09, July 28, 2015 | SocialCasualty |
| EQ Evans - Beater | 21:40, July 22, 2015 | LittleRedCrazyHood |
| Ava Hallow- any position | 20:50, July 22, 2015 | Acatonthemoon |
| Nicolette Mitchell-Anderson - Chaser | 19:31, July 22, 2015 | Sophia McLaren-Cobb |
| Audi Evans - Chaser | 16:48, July 22, 2015 | DYSUTOPIA |
| Roxane Oduba - Chaser | 16:09, July 22, 2015 | Sonofapollo |
| Ace Macbeth- Beater (Re-tryout) | 12:56, July 22, 2015 | Echostar |
| Lillian "Heliel" Arcanus - Chaser | 20:33, May 9, 2015 | Sophia McLaren-Cobb |
| Spirit Westbrook-Keeper | 21:04, May 8, 2015 | Lonewolf589 |
| Kitsune Zoldyk -any position | 20:27, May 4, 2015 | Yewcauldron20464 |
| Melinda Bagman - Any Position | 12:30, May 4, 2015 | Bond em7 |
| Kole Whitacre - Beater (Any position) | 03:37, May 4, 2015 | Effie.stroud |
| Ace Macbeth - Beater (Re-Tryout) | 22:21, April 30, 2015 | Iambestar |
| Iggy - Keeper or Reserve Keeper | 18:38, February 19, 2015 | Jakyou |
| Sara Atherton - Chaser (Re-tryout) | 14:13, February 8, 2015 | Carnarvan |
| Ace Macbeth - Beater | 13:28, February 8, 2015 | Echostar |
| Alaska Styles - Chaser | 11:22, February 6, 2015 | JayeTheMofo |
| Mortimer Crow - Keeper | 09:00, January 31, 2015 | FromTheEast |
| Ava hallow-chaser retryout | 17:16, January 24, 2015 | Acatonthemoon |
| Niele Jusmaite - Any Position (Re-Tryout) | 17:16, January 22, 2015 | Asteriea |
| Lillian "Heliel" Arcanus - Beater (Re-Tryout 3) | 00:05, January 22, 2015 | Sophia McLaren-Cobb |
| Rosey Perpenickle - Chaser | 02:55, November 15, 2014 | Pinky62111 |
| Anton Meyers - Chaser (2) | 22:24, November 4, 2014 | Dmullins677 |
| Ava Hallow- chaser | 21:43, November 3, 2014 | Acatonthemoon |
| Sara Atherton - Chaser | 16:03, November 2, 2014 | JayeTheMofo |
| Hunter Smith - Beater | 01:16, November 2, 2014 | JayeTheMofo |
| Lillian "Heliel" Arcanus - Beater (Re-Tryout 2) | 21:47, November 1, 2014 | Sophia McLaren-Cobb |
| Niele Jusmaite - Seeker | 08:58, October 31, 2014 | Asteriea |
| Alcee Gallagher - Keeper | 00:11, October 31, 2014 | LillyDaNinja |
| Niele Jusmaite - Chaser, Seeker or Reserve | 08:23, August 13, 2014 | Asteriea |
| Azalea Hepburn - Chaser or Beater | 02:54, August 13, 2014 | Nebuliss |
| Emmet Palmer - Anything | 02:50, August 13, 2014 | Laneydl |
| Anton Meyers - Chaser | 00:12, August 10, 2014 | Dmullins677 |
| Hunter Smith - Keeper | 14:19, August 9, 2014 | BookTwerk |
| Lillian "Heliel" Arcanus - Beater (Re-Tryout) | 23:18, July 20, 2014 | Sophia McLaren-Cobb |
| Savannah Morpheus - Chaser | 16:35, July 20, 2014 | ChocoKat |
| Lillian "Heliel" Arcanus - Beater | 01:40, October 28, 2013 | Sophia McLaren-Cobb |
| Cephas Orville - Beater | 17:46, October 27, 2013 | Asteriea |
| Nevaeh Papakonstantinou - Chaser | 17:26, October 27, 2013 | Rabbitty |
| Ava Grace-chaser | 15:38, October 27, 2013 | Kittycat589 |
| Hailey Salisbury- Beater | 06:32, October 17, 2013 | GoldenGail3 |
| Rosalie Hart - Keeper | 00:49, October 16, 2013 | Konacat9 |
| Emily de Moller - Chaser (REx2) | 20:41, October 14, 2013 | Yugimuto1 |
| Rosalie Hart - Seeker | 02:45, October 13, 2013 | Konacat9 |
| Olivia Clarence - Seeker | 14:31, October 9, 2013 | ChocoKat |
| Anastasia Giry - Captain/Goalkeeper (RE) | 21:33, October 8, 2013 | Yugimuto1 |
| Medea Griffin-Reserve Chaser | 13:40, August 19, 2013 | Kookoo and Kreme |
| Olivia Clarence - Keeper | 15:11, August 4, 2013 | Peislandgal |
| Seraphina Steele - Beater | 04:11, August 2, 2013 | Peislandgal |
| Lexi Kember-Chaser | 01:59, July 12, 2013 | Peislandgal |
| Anastasia Giry - Reserve | 15:25, July 10, 2013 | Peislandgal |
| Toby Lestrange-Chaser(RE) | 15:24, July 10, 2013 | Peislandgal |
| Emily de Moller - Chaser (RE) | 15:14, July 10, 2013 | Peislandgal |
| Logan Bryan Amador - Seeker | 15:13, July 10, 2013 | Peislandgal |
| Nikki - Beater (re-tryout) | 01:55, July 8, 2013 | Peislandgal |
---