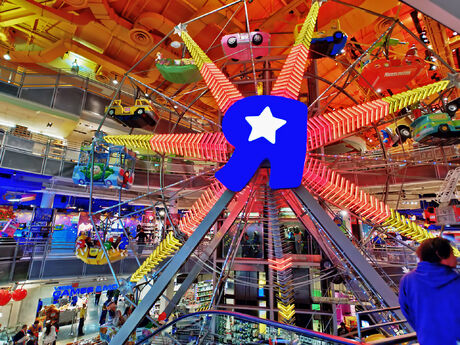 Hopscotch Toy Shop is one of the biggest toy shops to date. It has toys for all ages; babies, kids, teens, all of it! Located right next to Lincliff City's mall, it has three levels, one for each age range. It has everything a kid could ever hope for: plushies, board games, video games and consoles, movies, dolls, and way, way more!
Employees
Archives
Roleplay
Eden & Anyone
「 Eden Lestrange 」slytherin alum • intl. magical office of law
「 Occupation 」
Ministry Employee
Eden came to Hopscotch as frequently as she could, primarily to buy gifts for the orphans residing at Lil Bundles. With Christmas fast approaching, she knew any donations would be appreciated, so as soon as she'd clocked out of the Ministry, she'd apparated over to take advantage of her paycheck and get as many toys as she could afford. She's currently browsing the younger kids' sections, looking at educational toys she could get for the toddlers. Older kids were a lot easier, so she knew she could leave those for last.
Message Me • 13:52, November 19, 2019 (UTC)
Gus and IG
"It's not good to stay in a dark place for too long," she'd been told. IG has been doing so much better lately. Noah's dramatic stories of how he was being stalked now ("no thanks to you") keep her laughing. The poffle is doing well, as all soft and Floofy beings in this world should be. Yes, including the invisible floofy things. Invisible lives matter. She cracks a smile at that, but she stuffs it under the carpet of her teeth. She'd promised that she would chip in as the aunt (and she certainly had no problems about the money for it), so now she's browsing through the baby section, looking very much rattled among the rattlers. Uh, maybe she should have taken one of Paul's books on babies... she isn't sure where to start. Should she DM her brother? Nah, he probably has his hands full with the kids in question. She sighs. When all else fails... she snaps a quick selfie by one shelf, forcing herself to not obsess over how bad it can possibly go and uploads it. does anyone wanna help me find something for my nephew and niece, it's captioned.

.Source: Docoaerie



.

"tears are blood money worth the world." 🔮

#dropped the fuck outta there

#kiss-me-tallic #when-ur-on-a-new-level-of-loneliness

10:37, March 17, 2019 (UTC) 💬 🔁 ♡
「 Augustus Gabriel 」Slytherin Alumni / Werewolf
Walking past the eye-catching toy shop, the sight of the store had reminded Gus of a friend of his back in America who had a child only a few weeks before. He had meant to send the newborn baby a gift of sorts but hadn't found the time with being so busy a lot throughout his time back in England and the very limited time with permits from the precinct. Might as well step in and buy something quick before a month passed and he still hadn't sent a toy of sorts. Though, once inside the shop, his mind wanders to 'what does someone who is pretty broke buy for a newborn baby that will travel easy'. Gus doesn't have a clue but at least begins to walk around the place anyway in hopes that he'll figure something out.
Message Me • 00:55, March 19, 2019 (UTC)
Even with her records safe and snug behind Vigilance sanctioned walls, IG doesn't feel safe. Not here. Not until this reign had fallen into the ashes and that into the sea, Boston Tea Party style. Except she was sure a good part of Britain, namely the one walled off, would cheer for that one. Maybe she would too. As she scrolls through her feed and the onslaught of notifications, she picks out a rattler among the sea of colorful, shiny, and probably noisy things in this aisle. Were they past the age of rattlers? Who knew. Time to look for the staff and ask. Without looking up from her phone (she's trying to find that one goddamn emoji), she walks up to the nearest flicker of movement. It's too fucking late when she sends her message and realizes the scent her nostrils are picking up. Internal screaming ensues. She isn't ever one to be speechless, however, and true to form, she glances up like she hasn't just encountered... yeah. "You're not in a uniform. Any idea where they've gone to play hide and seek?" she says after the split second of hesitation.

.Source: Docoaerie



.

"tears are blood money worth the world." 🔮

#dropped the fuck outta there

#kiss-me-tallic

01:19, March 19, 2019 (UTC) 💬 🔁 ♡
「 Augustus Gabriel 」Slytherin Alumni / Werewolf
Werewolves have the ability to scent out for others. Gus knew that. Hadn't realized that was the case for a while, but that's because he didn't know anything about that part of him until moving out and, honestly, America. Though, he doesn't really care all too much if he senses one. What's he going to do? Snitch? Nah, Gus wasn't a snitch. He more worried someone would go snitch on him. Oh well, guess sometimes it's worth the risk. "Hm?" he says, eyes turning from a few rattlers and to the voice asking him a question. "Oh, uh, I don't really think I've seen any. Maybe there could be one up front?"
Message Me • 05:52, March 26, 2019 (UTC)
She holds up a manicured finger as she finished typing out a message to Samuel. no ur bi gtfo. In reality, it's buying time to prepare herself to see another werewolf when she hasn't seen one except Stone ever since going into hiding. She's aware the gesture is rude, but is courtesy all that important in this time and age? "Yeah, no, I passed by there and I didn't see anyone. Is there some random meeting going on?" Her tone dips down into annoyance, but her eyes are piercing when she looks up at him. Well, fuck, do we just ignore this? kind of piercing. Of all the worst luck...

.Source: Docoaerie



.

"tears are blood money worth the world." 🔮

#dropped the fuck outta there

#kiss-me-tallic

05:56, March 29, 2019 (UTC) 💬 🔁 ♡
「 Augustus Gabriel 」Slytherin Alumni / Werewolf
Gus was very much going to ignore it. Though, suppose the gesture she uses so she can text may offend someone else, it doesn't with Gus. He's got plenty other better things he can be bothered by. "Guess so," he replies with a shrug, not really knowing. His answer turned out to be false, and he didn't really know how to help out otherwise. He wanted to help, though. "If you'd want, I can help you look for an employee? There's got to be at least one keeping an eye around somewhere."
Message Me • 01:51, April 3, 2019 (UTC)
Alright, looks like they're both going to pretend that didn't happen. Younger her would've refused and noped out of here immediately. Current her has grown past that. While this dude could be working with the authorities, she has a place to run to now. Not Noah's bed, but still worth something. "Yeah. Thanks," she consents after a moment of hesitation. "Unless you know anything about what kids like. I wanted to buy something for my neets." She locks her phone and slides it into her vest's pockets. If she has to make a break for it, better not be in the position to drop a device with sensitive information on who she is.

.Source: Docoaerie



.

"tears are blood money worth the world." 🔮

#dropped the fuck outta there

#kiss-me-tallic

05:18, April 3, 2019 (UTC) 💬 🔁 ♡
Community content is available under
CC-BY-SA
unless otherwise noted.