Hyde Park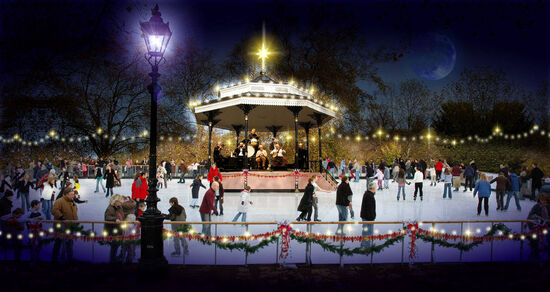 A light, glinting snow falls slowly from the sky. The street lamps illuminate the walkway. The stars shine brightly above you, the moon casting a pale glow over everything. The grass is blanketed with snow and the sweet, jazzy sounds of music sound throughout the park. The chatter of Muggles in the ice-skating rink are faint as you stroll around the rest of the park.
Archives
Roleplay
Heloise and Gabe
「 Gabriel Malfoy 」Ravenclaw Alum • Oversized Sweaters • Tea Lover
Gabriel was feeding the pigeons. He liked pigeons-hated ducks, though. With the way they quack and waddle around. Pigeons were useful. A bit like owls, really. Able to send messages around. Useful, smart. Ducks? Creepy little things that were very violent. And don't get him started on swans. Anyway, he had his own special bird feed (bread was unhealthy) and was scattering it out in front of him, watching the pigeons flock to it. He had invited his sister, Heloise, out that day, purposely choosing Hyde park. High time people went back into the muggle world and he was sure Heloise would be happy to come.
Message Me • 02:00, November 12, 2019 (UTC)
「 Héloise Malfoy 」Slytherin Alumni ♔
Heloise stood next to his brother, silently watching as he fed the swarming pigeons around them. Heloise didn't really care much for the birds, unlike Gabe. Found them annoying and pretty useless, but it was fun to watch as they feasted on the feed. She didn't really care much about ducks either. Gabe was right; Heloise had been very appreciative and in need of the invite out to the muggle park. Firstly, because it was a perfect excuse to get out the manor, but also, secondly, the two had to make up for all the time they had been across countries from each other. Lastly, she needed a break from her head and thinking—filled with thoughts and Chloe and what happened between the two—and a journey out to the muggle world with her favourite brother was perfect for that. So, here she was. Momentarily silent and enjoying the peace.
Message Me • 04:24, November 13, 2019 (UTC)
「 Gabriel Malfoy 」Ravenclaw Alum • Oversized Sweaters • Tea Lover
"So when are you going too move out? I assume you're looking for a job," Gabe said as he realised he was out of bird feed. He could summon more but not yet. Heloise was a lot more quiet than he initially thought she would be. She was never the most talkative (Alex did enough talking for the whole family but besides the point) but Gabe could feel something...different with this silence, if that made sense. "Mum and dad aren't being complete asses still, right?" Gabe had heard of why Heloise did a year in Beauxbatons and, for obvious reason, he was sympathetic. Of course, he didn't realise who the girl was. Except that she was at Hogwarts.
Message Me • 07:12, November 24, 2019 (UTC)
「 Héloise Malfoy 」Slytherin Alumni ♔
"As soon as I can afford an apartment of sorts, so when I get a job. Which, yeah, I'm currently looking for." Turns out it was easier said than done. She had looked around for 'needed employee' signs around local stores as of recently. Something that could work temporary. She knew that, if asked, Alexandria would of let Heloise help out at the clothing boutique, but the idea of relying on someone close to her—like her sister—sounded like hell. "Not exactly," she answered, growing a smile at the direct comment of their parents. "We just don't speak to each other at all."
Message Me • 00:56, December 2, 2019 (UTC)
「 Gabriel Malfoy 」Ravenclaw Alum • Oversized Sweaters • Tea Lover
"You can crash with me if you want?" Gabe offered. He lived in a studio apartment that he could barely afford himself. And, if he was honest, only had a single bed and a couch that was falling apart by the time he got his hands on it. But, being the older brother, he could take the couch and Heloise could have the bed if need be. "As long as you chip in something here and there, I don't mind. At least until you get something better. And hey, it could be a lot worse."
Message Me • 05:06, December 4, 2019 (UTC)
Community content is available under
CC-BY-SA
unless otherwise noted.