Jake Luke Wilson



Birth Date

15th ofMay

Hair Color

Blonde

Eye Color

Blue

Height

6'7"

Blood Status

Muggle-Born

House

Hufflepuff

Year/Age

24 years old

Wand

Home Town

Sydney
About
Jake Wilson was born in Sydney where he had a normal life (he was a spoiled kid always went to museums and zoos with his parents, had what he always wanted) until his eleven birthday when he got his Hogwarts letter, his parents were shocked at the news but later became happy and proud of his only kid. After this he started to understand why he sometimes did rare things like the first time he went to the aquarium and when he was hungry made a hotdog appeared in his hand (1st time he showed his magical sign) or when he was angry in school and made the teacher's hair blue. Jake moved to Hogwarts and get sorted in hufflepuff. He happily grew up in Hogwarts with plenty of friends. 
When he finished Hogwarts he came back to Australia and moved to a magic neighborhood where he met Rose Irwin (His girlfriend). After some jobs as a baker, He tried out as a chaser for the Thundelarra Thunderers and got it! He's currently with Rose and playing quidditch matches all around the world.
Traits
He is chaser of the thundelarra Thunderers.
Appearance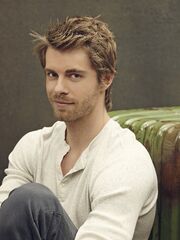 Personality
He's a kind and a mature person, sometimes is hard to keep in secret he's a wizard with his muggle friends, but he works his best to act like a normal person. Sometimes he miss his days before all the magic world. He likes surfing and play tennis. He's very loyal to the persons he loves and brave, he's vereverybody especially to those who deserves it. 
Family
Muggle-Born.
Relationships
Rose Irwin (Girlfriend)
Community content is available under
CC-BY-SA
unless otherwise noted.