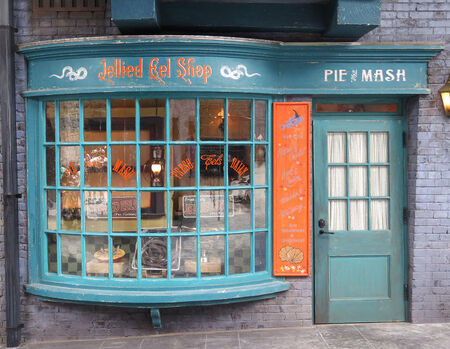 Jellied Eel Shop is a vendor in Lincliff City, right near Lincliff Square, that is notorious for its pies and mash. They also sell a variety of soups, stews and old-style deli sandwiches and even haddock. But they also have stewed and jellied eels if you are daring enough to try it. Beverages include pumpkin juice, tea, coffee, water, and the occasional experimental drink.
Owner & Employees
Roleplay
Gabriel and Theda
Theda Stark ⚔ Slytherin Alumna
-Alchemist
 – 02:28, June 11, 2020 (UTC)

She walks into the shop knowing that she's not hungry although she hasn't eaten in hours. She's so hurried in her movements while she headed toward the counter stuffing books in her bag, pulling out and tucking away headphones. She doesn't feel the slight absence of weight or hear the small book that slipped past the others and collided with the floor when she passed the tables.
Theda Stark ⚔ Slytherin Alumna
-Alchemist
 – 20:34, June 17, 2020 (UTC)

She's not startled in the slightest by the shoulder tap. More embarrassed then anything else that's she's left personal possessions lying around and she refuses to let that show. She glances at the book before looking in his eyes. "... Yeah, it is." She nods then takes the book back. She flips through the pages quickly stopping at a picture tucked between two pages. She lingers momentarily before closing the book and placing it into her bag, with a bit more care. "You didn't have to do that. I'm sure I would've seen it. But, thanks." She extends a hand and introduces herself as she feels its necessary now. "I'm Theda."
Theda Stark ⚔ Slytherin Alumna
-Alchemist
 – 23:23, July 11, 2020 (UTC)

She downplays her sentimental attachment to the book, it's the photo inside it that means anything to her. She could fill another in half the time with all the alchemical notations in the world, she'd never get another picture with her sister from that far back ever again. "I've got hundreds of them. It's not that important, I fill at least one every week." She half smirks and glances around the restaurant before she looks back at him. "And, even helping hands can hurt you. Gesture much appreciate though, Gabriel. Was I inerrupting your lunch?"
Community content is available under
CC-BY-SA
unless otherwise noted.