Full Name
Kristian Geirmund Homme
Pronunciation
KREES tee ahn
Meaning
Follower of Christ
Birthday
January 3rd, 1996
Status
Muggle-Born
Wand
Hazel Phoenix Feather
Wand Arm
Ambidextrous (Left dominant)
Patronus
Lynx
Boggart
Occupation
British Ministry employee
Norwegian Ministry employee (formerly)
Loyalty
Ministry of Magic, Hogwarts,
History
In the beginning . . .

Kristian Homme is a Muggle-born wizard. Another redheaded child born to Jacobine and Cato Homme. He was the youngest child in a family of nine, and he was still a young boy when he learned he was not a normal human, he was something else. Kristian and his siblings were running from a street vendor after his brothers had convinced his sisters to steal hot dogs. They all seemed like they would make it, like they would all get away. Except Kristian. He had been caught.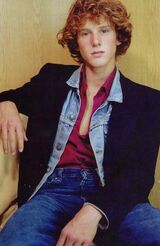 He was held in place by the collar of his shirt. Trapped. He felt helpless watching his brothers and sister get further, and further away from him. The street vendor, an old man who reeked of hot dog water had caught Kristian before. The last time he caught Kristian he beat him unconscious, Kristian knew what he was in for in that man struck him again.

The street vendor recognized Kristian once he turned the young boy around, and saw his filthy little face. Kristian watched as the street vendor drew his hand backward, and it came down just as quickly. Kristian flinched, he closed his eyes. When he did not feel the pain of knuckles against his head he looked up. He saw the street vendor, he was continually swinging, Kristian could feel the air from the swing almost fanning him. The street vendor was unable to hit Kristian, and when the old man made the mistake of letting go of Kristian, trying to hit the boy with a different hand. Kristian scurried away as quickly as he possibly could turning back only once as he ran to see that the old street vendor was also unable to follow him.

When Kristian made it back to the small hovel his family called home, his brothers and sisters were surprised to see him that night. The last time he had been caught they did not see him for at least two days. Kristian found they had not left him any food, and for yet another night he would go hungry. He did not care, he had found something in himself, something he had never known before. For the next few years Kristian let himself be caught while his brothers and sisters fled from danger. He did it to protect them, he also did it so he could make "it" happen again. Some vendors were able to hit him, and some were able to chase after him when he broke free. Not a one of the vendors who caught him ever beat him unconscious again. He was never able to replicate his first use of magic in the same way he did that day. He did not even know it was magic at the time.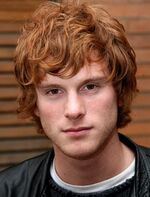 Being from a penniless Muggle family he was unable to attend a magical school closer to his home in Norway. Due to his blood status alone Kristian had to be educated at Hogwarts School of Witchcraft and Wizardry in Great Britain. He was sorted into Ravenclaw, and he absolutely loved it. He did often wish to have his brothers and sisters there with him, when he imagined it, things always ended badly. The way things always ended when he was with his family.

He played Beater for several years on his house quidditch team. He loved quidditch, he wanted to play as Keeper or as Seeker, but there was always someone better than him. He was not the strongest student, and his marks were often the lowest in class his first four years. He sometimes felt as if he did not belong in Ravenclaw, during his owl year he began spending time away from the tower he had called home, the tower he loved so much. He found himself in the library, and in his time spent there he raised his grades significantly. When Kristian graduated from Hogwarts he returned to Norway for a short time, home to Oslo. He worked a number of muggle jobs, even working at the very same Hot Dog cart he and his sibling once stole from. The old owner was long dead now, the new one did not know anything of Kristian and his family.

He became acquaintances with some of the local businessmen who occasionally stopped at his cart for lunch. Kristian is a very hard-worker, he always kept his cart clean, and he always served his customers quickly and correctly. One of his best customers even offered him a job as an assistant directly under him. That man worked for the Norwegian Ministry of Magic.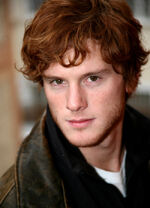 After much debate, and a very, very long wait Kristian became the Personal Assistant to the Head of the Department of Magical Education, a positioned he held for ten long years.

He discovered he was passionate about education towards the end of his academic life. His late start did not deter him, he continued to study magic when he returned to Norway. He worked muggle jobs to help provide for his family and came to learn he was not the only Muggle-Born wizard in Oslo. He worked many menial jobs while his brothers and sisters continued on the downward spiral that would take a few more of their lives, as they had always known it would. Kristian tried to help his siblings, all they ever wanted from him was money. After the death of his father, whom he cared for lovingly until the end of his life at the age 82, Kristian returned to Great Britain.
Family Info
Homme




| | | | |
| --- | --- | --- | --- |
| Mother | Jacobine Christensen | Father | Cato Homme |
| Grandmother | Ester Aarbakke | Grandmother | Berit Løvland |
| Grandfather | Marius Christensen | Grandfather | Øivind Homme |
Kristian was the youngest of nine children.
| | | | |
| --- | --- | --- | --- |
| Brothers | Kjell, Niels, Sebastian | Sisters | Kjersten, Maija, Lisbeth, Helene |
His eldest brother Kjell died while Kristian was at Hogwarts, his eldest sister Kjersten was murdered, robbed of the nothing she had and left for dead in an alleyway. Together with one of her brother Kjell's best friends (Tormod Waaler), his elder sister Lisbeth ran away. ... His elder brother Stefan walked out on the family one night, and he was never seen or heard from again. Every one has always assumed that he is dead.
His elder brother Sebastian, and elder sisters Maija, and Helene are the only ones still living. While they were not very helpful at all before his father's passing they have made attempts at being supportive since.
Background
Birthplace
Oslo, Norway
Type of Childhood
Hard
Earliest Memory
Losing brothers and sisters
Pets
Likes
Generosity
Dislikes
Greed, Violence
Fears/Phobias
Losing his magic - He knows how to defend himself but believes he would be weaker without magic
Hobbies
Solving Rebus Puzzles, Reading at book stores and libraries, Comparing the International standards of wizarding education
Comfort Food(s)
Smørbrød, Lapskaus, Reinsdyrsteik
Person Secretly Admired
Professors, Educators
Most Influenced By
His friends and to some extent his family
Immediate Goals
Re-write W.O.M.B.A.T.s, O.W.L.s and N.E.W.T.s
Long Term Goals
Become an Animagi Trainer
Greatest Fear
Being unable to use his mind
Most at Ease When?
Relaxing in the garden
After solving a puzzle
Priorities
Past Failures
Character Flaw
Over-protective ; he can be too eager to fight the good fight and stand up for people who are not always willing to stand up for themselves
Personality
Kristian is a sweet, noble, mischievous, and loyal person. He can be disgustingly humble to people who don't like the sort of person who does not always know how to accept a compliment. He is unfailingly altruistic, but often makes the mistake of letting his morals lead him unto darkness where justice is concerned.
He did not come from a very wealthy, they were not even comfortably wealthy. Many of his family members, his brothers and sisters resorted to committing various crimes in order to survive. Kristian was never willing to do the same. He would give the shirt off his back, the shoes off his feet, and the food he intended to put in his belly if someone else were more in need.
He was told he could choose it was "this life" or suffer. Kristian chose the latter. He suffered. He suffered through beatings, though hunger, and poverty. If he was immortal he would have suffered though death on a daily basis so that people would live a life without fear of it.
Appearance
Eye Colour
Brown
Hair Colour
Red
Height
5'11
Weight
147 lbs
Native Language
Norwegian
Ethnicity
Norwegian
Languages Spoken
Norwegian, English
Clothing Style
Shoe Size
Possessions
| | |
| --- | --- |
| Hazel Phoenix Feather Wand | |
| Firebolt Supreme | |
Abilities
Transfiguration
Charms
Relationships
Personal
Abigail Cassidy - Kristian and his good old friend Abbie were housemates in Ravenclaw at Hogwarts for their first through seventh year. He was her partner in Charms class and she was his partner in History. They were not always the best match, for instance his Beater to her Chaser left her with a wounded arm one that he was not soon to forget. To this day they are still quite good friends.
Whereabouts
Community content is available under
CC-BY-SA
unless otherwise noted.