Oliver's Apartment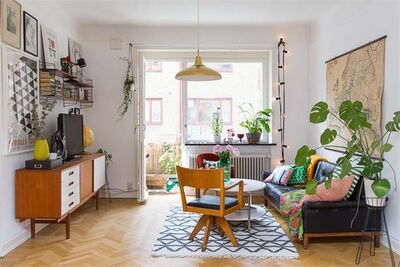 Oliver Lancaster's home. He lives by himself in this small two bedroom apartment and uses the extra room for his photography studio. He lives in the heart of London but doesn't mind the city life. He's always home and it's hard to miss him.
Archives
Roleplay
Oliver and Ezekiel
| | |
| --- | --- |
| Ez usually sleeps in shorts and nothing else during the summer, but since he was attacked he hasn't been able to sleep in anything less than his winter pajamas - he just doesn't feel safe without being covered. He'd like to have a few heavy winter blankets on the bed as well since the weight comforts him, but he knows Oliver would be much too hot, and he doesn't want to sleep on his own. He's in the midst of yet another nightmare, this one the same as the ones he's had almost every night after the attack. He keeps reliving it when he sleeps, and every night it feels so real. He can see the same faceless person torturing him like he was back in that stupid forest - and sometimes, when he wakes up, he thinks he is. He jolts awake tonight, sitting upright suddenly, his chest heaving. | |
| | |
| --- | --- |
| He flinches away from Oliver's touch at first, a little startled. "I didn't mean to wake you," he mumbles, not looking at Oliver. Did you have a nightmare? He hates that question so much. He has nothing but nightmares these days. "Yes, I did," he admits quietly, tears overflowing his eyelids. He tries to wipe them away quickly, but they keep coming. "I'm sorry - I'm, I'm not okay. I'm not." | |
Oliver Lancaster

- 🦄 COMC Professor 🦄

-"I didn't come this far to only come this far." (ง •̀_•́)ง
Message Me – 02:45, January 12, 2019 (UTC)

"Hey hey, it's okay," He said, wiping away some of Ez's tears as he looked at him. "It's alright not to be okay... You're going through therapy and getting better, you're making progress," He said to try and reassure him, hating to seem him so distraught. "Come here," He said and wrapped his arms around Ez, holding him close. "It's alright to cry,"
| | |
| --- | --- |
| He leans into Oliver's hug, clutching Oliver's shoulder with his left hand while his right balls up the fabric of his own pajama pants. His shoulders shake as he sobs, trying to get out all the pent-up feelings left over from his nightmare. He wishes Oliver could truly understand how much it means to him that he's so supportive. "Thank you," Ez gasps out between sobs. | |
| | |
| --- | --- |
| He nods against Oliver's shoulder. "Can you keep holding me?" | |
| | |
| --- | --- |
| He snuggles into Oliver, one of his hands holding the blanket tightly around his shoulders. "I think I need to go to a hypnotist or something," he mutters. | |
| | |
| --- | --- |
| "I know I'm making progress," he lies, "but I just...I need to remember who did this to me. It's driving me crazy - their face is just missing. That's the only damn thing about this that I can't remember, and it's the only thing I actually need to." | |
| | |
| --- | --- |
| He sighs. "Yeah, maybe. I'll ask my dad's therapist and see what she thinks I guess." | |
| | |
| --- | --- |
| He takes a deep breath, trying to ground himself by focusing on Oliver's touch. "I think I'll be okay. But...maybe later I might? I don't know how it's going to go. Maybe if you could just pick me up after?" | |