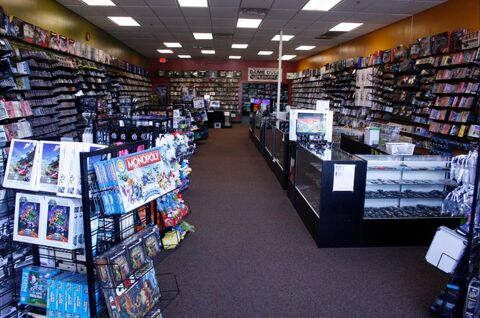 A fairly new shop that was only opened to appease the muggle-born crowd, PowerPlayer Games is a shop that focuses on selling video games and consoles. It's a small shop, often overlooked, but home to the biggest muggle-born and half-blood nerds.
Employees
Archives
Roleplay
EQ and Delaney
EQ Schmidt

- Third Year Ravenclaw • The Ghost's Legacy • Chaser

-"I won't care if they laugh at me, if I lose my grip on gravity - I'm doing the best I can."
Message Me  - 07:35, January 16, 2019 (UTC)

EQ rubbed the back of his head and gave the CD cases a skeptical look. "Only know what you tell me, but is it really that good? It looks kinda lame..." He muttered, eyeing the design. The way Delaney went on about it, he was expecting something spectacular. "I guess I'll actually have to play it, huh?" EQ realized as he picked up the case for Sims 3. The only way to know if it was as amazing as Delaney described was to give it a go.
Venus and Tate
「 Venus Gyeong 」second year slytherin ◈ tarot card reader
Venus entered the store without really looking where she was going, somehow being able to meanuver around people and shelves alike. Her attention was decorated down toward a portable game system, which she seemed to be heavily engaged in. A lollipop stick jutted out of her mouth, teeth securely locking it into place as Venus blindly reached forward and pulled a game from a shelf.
Message Me • 00:48, January 14, 2019 (UTC)
「 Tate Jeon 」Fourth Year Slytherin • Slytherin Captain • Beater
Having heard that the PowerPlayer Games had a new shipment of his favourite collectibles, Funko Pop Figures, Tate had to go in and check out which ones were available. Truth be told he really didn't need anymore, his collection had gotten so big that he was almost certain he wouldn't be able to fit them all in his suitcases for Hogwarts, but that wasn't going to stop him from buying more. After walking into the store, Tate walked purposefully to the Funko Pop section, which conveniently was beside the section Venus was in.
Message Me • 10:08, January 14, 2019 (UTC)
「 Venus Gyeong 」second year slytherin ◈ tarot card reader
Venus directed her gaze to the title of the game she was holding before setting it back onto the shelf almost immediately. The female paused her game and slipped it into her side bag before pulling out her tarot cards in replacement. She withdrew the lollipop from her mouth for a few seconds as she too gravitated toward the Funko Pop Figures. It had heen a while since she added one to her collection. Putting her lollipop back into her mouth, the girl begun to subconsciously shuffle the deck as she peered at Tate with mild interest.
Message Me • 10:44, January 14, 2019 (UTC)
「 Tate Jeon 」Fourth Year Slytherin • Slytherin Captain • Beater
Tate was far too enthralled in the Pop Figures to notice Venus' presence at first, but when he had found a Pop Figure of one of his favourite super heroes and picked it out, he caught a glimpse of her and the realization that he wasn't alone startled him at first. Simmering down quickly however, Tate bowed apologetically. "Sorry, I didn't know there was someone else looking at the Pop Figures."
Message Me • 11:00, January 20, 2019 (UTC)
「 Venus Gyeong 」second year slytherin ◈ tarot card reader
The peculier girl stood there for a moment longer in silence, clearly unsure of how to address his reaction to her quiet lurking before she shrugged and popped the lollipop back into her mouth. Spying the same super hero figurine in his hand that she had back home, she gently tapped the box with her finger and made a lazy thumbs up gesture. Slipping down the aisle a bit, the girl stood on her tippy toes and dragged down a box near the top that he may not have seen. Presenting him with a limited edition version, she insisted he buy both since they were on for a good deal.
Message Me • 03:13, January 21, 2019 (UTC)
Community content is available under
CC-BY-SA
unless otherwise noted.