This character has been requested to be preserved by
Echostar
.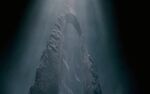 This Character Has Moved on Behind the Veil
This character is dead. They either died in battle or on a quest, but they have moved on to an after life beyond the veil.
Professor Ruby Young†

Roleplayer

Date of Birth

22 April 1977 (age 34)

Gender

Female

Blood status

Muggle-born

Height

6'

Hair Colour

Brown

Eye Colour

Brown

Skin Colour

Pale

Family

Matt Young (ex-husband; deceased)

Wand Arm

Left
Professor Ruby Young† (cont.)

Patronus

Pony

House

Ravenclaw

Animagi

Pony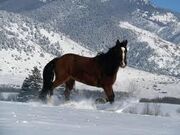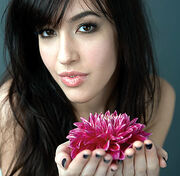 Professor Ruby Sophia Young is a Ministry-approved Animagi instructor and substitute teacher.
Roleplayer
Teresa's roleplayer is Echostar
History
Ruby was raised by strict Catholic Muggles who believed witchcraft was the root of much evil. When she began to show her magic at age 8, her parents kicked her out of the house. Alone, she lived on the streets until a Hogwarts representative told her that she was a witch. She attended Hogwarts school, and was in Ravenclaw house. Her charming demeanor, beauty, and intelligence made others envious, leading to a lonely school life.
After Hogwarts, she worked at Magical Menagerie and attempted to become an Animagus. In her spare time, she composed music and wrote some great songs. Once she succeeded, she spent 3 years testing her new abilities and developed a dream to become an Animagi instructor. Her dream came true; she applied for the new position in the Ministry and it passed vote. A few days later, she married her husband, Matt Young. However, he died of dragon pox 6 months after their wedding. 2 years later, she began teaching Animagi classes to the older Hogwarts students in addition to her Ministry work.
Her time as Animagus instructor was, alas, cut short. She was poisoned during a masquerade ball on April 9, 2011 and passed away quickly. Her murderer was revealed to be Karith Black, who is no longer in Azkaban, but a Minister guard.
Appearance
Ruby is 6' tall with pale skin. She has long brown hair and deep brown eyes.
Name Meaning
'Ruby' simply means 'ruby' from the name of the precious stone. The name 'Sophia' means 'wisdom', and the surname 'Young' simply means 'young'.
Community content is available under
CC-BY-SA
unless otherwise noted.