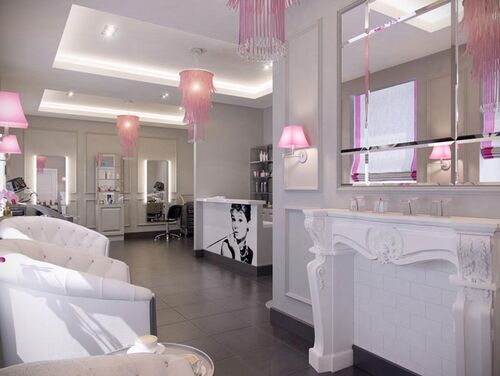 As you step inside the pretty marble building, a gush of refreshing cold air greets you. It smells of orchids and oriental lilies, and you're directed by a pretty receptionist to a waiting area. The interior is plush, with white and soft-pink decoration. You wait, seated comfortably on a white leather couch, and wait for your name to be called.
this is a pride location.
The salon will be offering complimentary hair and makeovers for the march, so here's a good place to stop before you head into the grounds!
Archive
Roleplay
Mika and Viola
「 Mikaela Mäkinen 」Narcissist • Thor's Bitch • Influencer
「 Occupation 」
Bounty hunter
Mika was getting her nails done, talking idly with the person doing it but the other girl was rather boring and quickly lost her attention. She wanted the owner. What was her name. Skylar. That girl. However, she was apparently off in Paris that week so she was left with some amateur who was ruining her nails. Mika was going to redo them the first chance she got. Somehow they mixed up the colours and Mika, wanting purple nails, was suddenly having navy colored nails. Which disgusted her. Looking around the room, she wanted something to take up her mind. Distract her from everything around her. Life had been so dull for her lately that she needed anything to entertain her. Drama of some sort.
Message Me • 05:10, August 5, 2019 (UTC)
「 Viola A'isha Malika Flint 」who said she couldn't be a bad bitch and a queen?
A salon such as Rouge Lips wasn't a location Viola frequented often, but made a rare exception today for a manicure. She had recently started a new job, and was able to take advantage of recent paychecks. The salon wasn't busy, and Viola didn't need to wait long to be seated into a chair next to Mika. She remained mostly quiet while the salon worker began to work on her fingernails.
Message Me • 07:10, August 9, 2019 (UTC)
「 Mikaela Mäkinen 」Narcissist • Thor's Bitch • Influencer
「 Occupation 」
Bounty hunter
It wasn't long before Mika recognizes Viola. They had met briefly years and years ago. Their parents knew one another. Mika wasn't sure if Viola's parents really liked Mika's. Mika wouldn't blame them. They were horrid people. And Mika couldn't wait to see them fall from grace. Along with Fitzgerald. However, they had met when Mika was still living with them and...her parents weren't someone Mika was willing to be associated with. So she didn't reach out, didn't say anything, and hoped the other girl wouldn't recognise her. Or if she did, she recognised her from her social media accounts rather than her parents.
Message Me • 02:39, August 18, 2019 (UTC)
Community content is available under
CC-BY-SA
unless otherwise noted.