《 Sasha Han-Byeol Park 》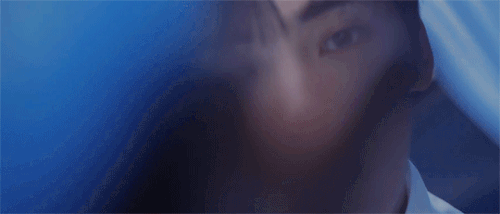 Personality ||
supermoon

— keeper of secrets, overhears strangers' conversations a lot, loves soft animals, neon lights, old train tickets at the bottom of a bag, lying awake and wondering if someone misses them too, smoky night skies, fiery emotions, doesn't tell anyone anything, aloof but softies when no one is around
Even before his parents' death, Sasha was a boy of very few words. He is less of a talker and more of a listener, and very content with staying in the background. Sasha keeps his thoughts close to himself. If he's prodded, he's more likely to offer objective views over subjective ones. His very quiet aura gives him the impression of someone who holds a lot of secrets, and it isn't far from the truth. His inclination to silence and solitude, and his unfailing dedication to promises made with him, makes him the perfect secret keeper for a few of his close friends.
Sasha's silence stems from his preference for the quieter ambience of the natural world. His childhood home was located near the outskirts of the bustling city of Liège, where his parents had worked, and it made him associate home and comfort with the soft chirps of birds than the loud hustle and bustle of the city. It's also why Sasha feels much more secure around animals than people, especially crowds of people. All these quiet, natural sounds help him be reminded of home, back when both of his parents were still alive and Senna was still unaware of the world's darkness. Sasha keeps quiet and listens because it lets him pretend.
Being born to two astrophysicists, Sasha was exposed to astronomy and astrology at a very young age. This let him develop a deep love for both subjects and he shares this fascination with Senna. He is very passionate about anything and everything involving outer space. Talking about it remains one of the only ways to coax out Sasha's more talkative side as he can talk about it for hours on end. His love for outer space became one of his driving forces to finish school and earn a degree in astrophysics much like his parents did, fully intending to follow in their footsteps and making a career out of it.
He also developed separation anxiety with his younger brother Senna, which is triggered when both are unaware of where and how the other is for a period of time (usually 40-48 hours) and is caused by a deeply ingrained fear of losing each other as well. Both brothers each carry half of a pair of two-way mirrors in order to keep themselves updated about each other. Sasha's anxiety mostly manifests in his overprotective nature concerning Senna and an deep nagging fear that, with his trauma and anxiety, he isn't doing enough for Senna as both a brother and a substitute parent.
History ||
William Park & Claudine de Forest's lives revolved around stars and planets, galaxies and nebulae. They were Ombrelunes with a great affinity for Astrology and an obsession with outer space. They loved to joke that their first meeting and eventually their romantic relationship was written in the stars. After graduation, both went on to get degrees in astrophysics and end up working in the same research and development laboratory. Not a year after, they were married.
Three years into their marriage, Claudine gave birth to a son. Sasha Han-Byeol Park was his parent's little star, a breath of fresh air from the hard work both had to pour into their jobs. Four years after Sasha came Senna Dal-Hwan, their moon. Both were brimming with the magic of their youth, literally. At 4 years old, Sasha made all their books fly off the shelves. Senna, at his 5th birthday party, made his cake explode. Their little family was complete, their own perfect constellation and there's nothing the couple would ask for more.
That is until a small spark razed their laboratory to the ground. All they wanted to ask was more time, more time with their sons. They didn't get them.
Sasha was only 13 and Senna barely 9. Their grandparents, Claudine's parents, may have taken them in but the loss of their parents proved to have dug deeper into their psyches. Senna, once he understood what had happened, stopped talking altogether. Sasha went on lockdown, keeping Senna close to him and never let him out of his sight. Both developed a fear of being separated from one another, even for a short amount of time (what if one of them was next they can't go through that anymore—). One could imagine the chaos that came when Sasha had to go back to school. Senna was inconsolable, Sasha more so.
In a desperate bid to help their grandchildren (Senna wasn't coming out of his locked room, and they were receiving notices that Sasha hasn't even stepped a foot out of his dorm room), they gave them a pair of two-way mirrors. They helped. Even if there's a danger of the mirrors becoming a lasting crutch for the siblings, what matters is that the mirrors are helping them cope with the distance and enabling them to function even for a little.
The siblings still kept the two-way mirrors long after Senna had joined Sasha in Beauxbatons. The siblings were getting better, especially Senna who had finally started to speak after close to two years of silence. They could handle being away from each other for a certain amount of time, though there are still times when one of them would get that feeling and immediately take out their mirrors for the sake of security.
By the time Sasha had graduated from Beauxbatons, the brothers had a semblance of normalcy. They are still somewhat dependent on their two-way mirrors, but only during the worst of times like when they're suddenly plagued by nightmares or when their parents' death anniversary had loomed over them once more.
During their time at Beauxbatons, the brothers found another way of coping: video diaries. At first, their videos were shared just between the two of them. They would curl up together in the Ombrelune common room and watch their videos for the day, making commentary for each other and helping each other improve in their videography. Then one day they decided to send their videos and make new ones to send to both sets of grandparents. It became a tradition for them: daily videos for each other and weekly compilations for their grandparents.
Then their friends caught wind of their new hobby and decided to join in the fun until one of them suggested they open a Flootube channel. Several nights of brainstorming and online courses in videography were spent between the two brothers until they were finally able to open their shared Flootube channel: andromedumb. At first their videos were just simple vlogs, but eventually they branched out to dance and vocal covers, unboxings, music and video reviews, reaction videos and even crack vids.
Sasha was holding a steady job at a local Magical observatory as an astronomer when their grandparents announce that they're getting a change of scenery. They were moving to the United Kingdom. The brothers were skeptical about this, Belgium has been their home since forever. Then again their grandparents had a point: they still haven't fully recovered from their parents' deaths and probably never will... But maybe a change of scenery can help with it.
Community content is available under
CC-BY-SA
unless otherwise noted.