Stowe & Packers Magical Bags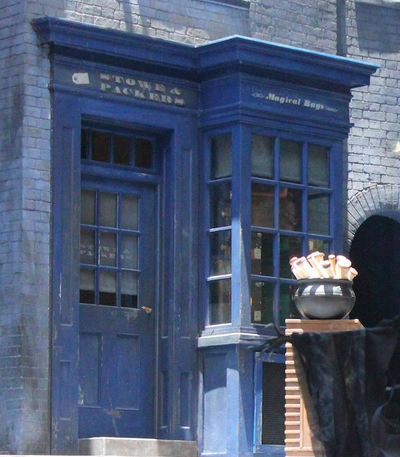 Stowe & Packers Magical Bags is a small shop located in Lincliff City. They sell luggage and all sorts of bags, including charmed ones.
Archives
Roleplay
Chaehun and Val
| | |
| --- | --- |
| https://IconicUsername.com/characters/Valentino-Taejo | |
06:30, February 4, 2019 (UTC)
Dating a guy older than him was a whole new venture. Val had always dated within his year or younger so it was interesting being the younger one for once, especially because he had somehow managed to flirt his way into the other's heart. Regardless, they always seemed to be within each other's spaces and Val hadn't been planning to go to a bag store but one thing led to another and here they were. The store itself was fascinating, yet so small and forgettable it was easy to see why he had never noticed the place. "Yeah, but maybe we should go for more of a red velvet?" Val argued, tilting his head as he stared at the back. "Oh, or we could get this one," he piped, taking a bag off the shelf.
| | |
| --- | --- |
| https://IconicUsername.com/characters/Valentino-Taejo | |
17:04, February 4, 2019 (UTC)
"You sound like you're planning to run away or something," he joked, teasing Chaehun. "Planning to go camping any time soon?" Then, he got an idea, suddenly grinning. "We should go camping. Wouldn't that be fun, Chaehunnie?" He had taken a liking to nicknames, coming up with different assortments of them and using them regularly. His favorite currently was Chaehunnie. Last week was Hunnie Bee, and the week before was Chae-ssi. He was also particularly clingy, not in the annoying way but in the touchy way, evident by the fact that he seemed to latch onto Chaehun any chance he got.
| | |
| --- | --- |
| https://IconicUsername.com/characters/Valentino-Taejo | |
23:34, February 9, 2019 (UTC)
Val followed Chaehun, regardless of his feelings on any matter which were mostly positive and assorted with different admirations. "As long as you don't go looking for death, you won't get killed," Val reassured. "Camping trips are usually fun and harmless. We can go stargazing, swim in the lake, sing camping songs together..." He tilted his head, and then he remembered something. A thing he had been conflicted for awhile on and wanted resolvement. ""Speaking of singing, I saw the teasers," he said casually, not alluding to what exactly he was talking about but making it somewhat obvious.
| | |
| --- | --- |
| https://IconicUsername.com/characters/Valentino-Taejo | |
14:09, February 18, 2019 (UTC)
Val is only thinking at the moment, quietly noting the shelves. He didn't have to wait too long for a response, it came instaneously, but he was lost inside his own thoughts until he felt Chaehun panicking. He lifted his hand and brought a hand to Chaehun's arms, as a reminder he was here. "Breathe, Chaehunnie," he advised softly in the most soothing tone he could conjure. "It was great. I love them."
| | |
| --- | --- |
| https://IconicUsername.com/characters/Valentino-Taejo | |
20:56, February 27, 2019 (UTC)
Val might not be the brightest crayon in the box sometimes, but he could certainly see through Chaehun. He shifted his feet, pressed a kiss to Chaehun's cheek and smiled at the other. "I know you did," he reassured, lacing his fingers with the older's. "And I can see all your hard work and I'm super proud of you." He raised another hand and tilted Chaehun's head so he was no longer looking at the bag but at him. "I can't wait to see your debut. It'll be amazing."
| | |
| --- | --- |
| https://IconicUsername.com/characters/Valentino-Taejo | |
04:53, March 1, 2019 (UTC)
He returned the kiss and grinned afterward, feeling filled with fuzzy warmth. "Don't thank me, it's my honest opinion," he counteracted, though his smile clearly showed he greatly appreciated the appraisal. It's not like he liked when Chaehun was anxious or anything, but he liked being able to calm him down. It made him feel like he was truly being helpful instead of just y'know, existing besides Chaehun as his boyfriend. He giggled a little at the cheesy line. That was so typical of Chaehun, and he loved it. "You know what's even more amazing? You."
| | |
| --- | --- |
| https://IconicUsername.com/characters/Valentino-Taejo | |
06:45, March 5, 2019 (UTC)
"Do you think they'd mind if I switched to Ravenclaw sixth years later?" he asked absentmindely, making it sound like he was joking when it very well could've been a real thought he was contemplating. Val was weird like that, thinking about things that very well had zero probability of happening and still hoping they were possible anyway. Probably due to his inherent, uncontrolled, constant stream of optimism or maybe he was just straight up delusional. Let's go with the first one because it makes him sound less of a lunatic of more of a geninuely cheerful person. He basks in Chaehun's attention as he's kissed on the forehead, closing his eyes and smiling as he accepts the other's silent I love you'. It's unexpected but not unrecieved. Chaehun's kisses were the best and made him feel at home. Like the older was his home.
| | |
| --- | --- |
| https://IconicUsername.com/characters/Valentino-Taejo | |
00:28, March 10, 2019 (UTC)
You could see how strikingly content Val was, it was painted all over his face as he happily held Chaehun's hand, enjoying Chaehun's attention. They could literally be doing nothing, which technically they were, and Val would be content as long as it was him and Chaehun. That's why when Chaehun suggested moving in, he wasn't all that hesitant to it. He was old enough after all, even if he was a sixth year. "I wouldn't mind that," he murmured, squeezing Chaehun's hand. Even if Chaehun had barely raised his voice, Val still had the audacity to speak at normal volume regardless. After all, he wasn't nervous about the prospect whatsoever. "I think rooming together would be cute. I'm totally down for it if you want. I'm probably going to redecorate. Oh! Or we could buy a place for ourselves."
| | |
| --- | --- |
| https://IconicUsername.com/characters/Valentino-Taejo | |
19:15, March 17, 2019 (UTC)
"A present to us, I like that," he hummed in agreement, swinging their intwined hands. He share's Chaehun's smile, staring at his boyfriend lovingly. His eyes wander a little from Chaehun to look at another bag for a split second, but soon he's back to wandering around the store with his boyfriend, making conversation. They neared the door and he shrugged, finding no reason to be in the store anymore. They didn't end up buying anything anyway. "Yeah," he chirped in response. "There's a cafe down the street, let's go there now."