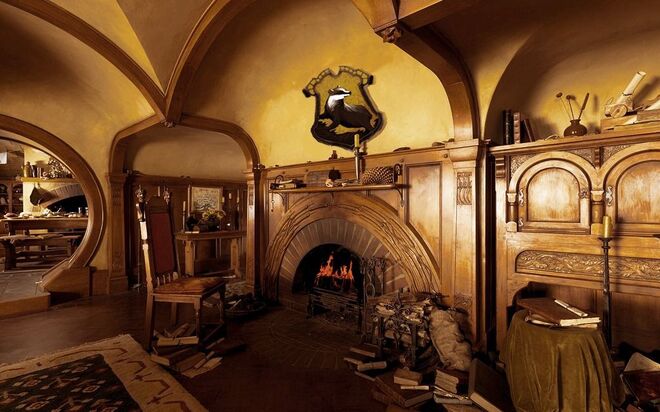 The entrance to the common room is concealed in a stack of large barrels in a nook on the right hand side of the kitchen corridor, which is one floor below ground level (this is also known as Hufflepuff Basement).
Tap the barrel two from the bottom, middle of the second row, in the rhythm of 'Helga Hufflepuff', and the lid will swing open. We are the only house at Hogwarts that also has a repelling device for would-be intruders. If the wrong lid is tapped, or if the rhythm of the tapping is wrong, the illegal entrant is doused in vinegar. You will hear other houses boast of their security arrangements, but it so happens that in more than a thousand years, the Hufflepuff common room and dormitories have never been seen by outsiders. Like badgers, we know exactly how to lie low – and how to defend ourselves. Once you've opened the barrel, crawl inside and along the passageway behind it, and you will emerge into the cosiest common room of them all. It is round and earthy and low-ceilinged; it always feels sunny, and its circular windows have a view of rippling grass and dandelions.
There is a lot of burnished copper about the place, and many plants, which either hang from the ceiling or sit on the windowsills. The Herbology Professor brings the most interesting specimens (some of which dance and talk) to decorate our room – one reason why Hufflepuffs are often very good at Herbology. Our overstuffed sofas and chairs are upholstered in yellow and black, and our dormitories are reached through round doors in the walls of the common room. Copper lamps cast a warm light over our four-posters, all of which are covered in patchwork quilts, and copper bed warmers hang on the walls, should you have cold feet.
Hufflepuff Common Room
welcome to hufflepuff basement
Schedule
All classes run weeks 1-8 and all exams will be week 9. Week 4 will be a break for Christmas Holidays.
House Notices
Roleplay
Margie and Troy
Having been a year since they kissed (could you believe? Troy still wasn't over it, not at all), Troy and Margie had been slowly progressing. Neither had put a label onto what they were–Troy could never get over the fact that he managed to find someone like Margie as a friend let alone as a girlfriend, so the idea of asking was mind blowing. Troy fully believed Margie was out of his league. It didn't help that he tripped over everything he could find and fumble over every second word. Admittedly, he had gotten a lot better at the latter and could hold his own for a while, even making a few jokes here and there. Late at night (nearly around the time the prefects called lights out), he was lounged across an arm chair with a potions book on his lap and he was idly flicking through it. "Summer went way too fast," Troy pointed out with a sigh. Everywhere he went, the topic of elections was around and he heard it all with dread. Troy hated politics now, especially because of his father. "I feel like it began only yesterday."
Yeah as far as Margie was concerned, they were already dating. No, they hadn't labeled it, but she just assumed. She liked him and he liked her. What else would you conclude? Margie sat all curled up on the couch beside Troy, staring at her Charms notebook. Really all the words were jumbled at this point and she was actually falling asleep. There was only so much studying you could get done before your brain was a bowl of mush. So when Troy spoke up, Margie was grateful for the distraction. "It did. I'm still convinced that some professor figured out a way to speed up the summer without anyone knowing." Margie declared.
Posted on
16:37, July 31, 2019 (UTC)
"If they figured out magic for a time turner then surely they can figure out magic that speeds up time," he said with a melodramatic sigh, relaxing his head back to rest his eyes–just for a moment. Like he'd let himself fall asleep now. Troy was so paranoid of losing the good, happy times (like spending time with Margie) that he rarely allow himself to not cherish these evenings. His father accidentally ingrained that into him. "But too bring about another year of school? Surely that's the most evilest thing you've ever heard of." Troy liked Hogwarts–he did! It took him away from his home life. But he wasn't the best student around.
Margie nodded in agreement. A reverse time turner. Only a vile creature would create such a thing. "But I guess I get to see you more, so it's worth it then, isn't it?" She smiled warmly, taking a moment to give Troy her full attention away from her homework. "You're pretty okay to hang out with, y'know?" She teased, though they both knew that was an extreme understatement. Margie loved hanging out with Troy more than anything else.
Posted on
18:38, August 22, 2019 (UTC)
Troy blushed when he heard her, looking at her in slight amazement. It's not often someone turned around to Troy and said something like that. None of his sister's had much time for him and his father...well, his father was a different story. His mum was probably the only one that actually ever seemed to want to be around him. Until Margie and a handful of other people. But mostly Margie. "Just okay?" He echoed, recovering before grinning. Considering how many times they had kissed (Troy could write a poem about it. He wasn't much of a poet (he was rather terrible) but he could write one regardless.), Troy wasn't that naive to consider that anything but an understatement. "But you're right–I get to see you more. I could deal with doing Hogwarts all over again if it meant more time with you. Look, look, I made you something–" Troy said, as he dug through his bag. Troy had made it weeks ago but he either forgot about it or didn't have the guts to give it to her. However, a second later, he brought out a small paper dove. It was a little crumpled from being in his bag but he hoped she could ignore that. Blowing on it lightly, Troy had charmed it so it would fly over to her. And it did, it fluttered through the air. Not the most graceful. The dove was no bigger than the palm of his hand and he had spent a few hours figuring out how to make it. Then another few hours to figure out how to charm it to fly.
Community content is available under
CC-BY-SA
unless otherwise noted.