Tesco Supermarket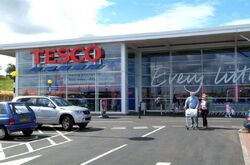 Tesco Supermarket! Located in London, England, people from all over town come here to get groceries, shop for clothes, or look for the newest mobile phone!
NOTE: This establishment is NPC-Run
Archive
Roleplay
Oliver and Alfie
「 Prince Alfred of Wales 」Gryffindor Alum • 👑 Second in Line 👑
「 Occupation 」
Royal Prince
Alfie loved the solace that the muggle supermarket gave him. In muggle England, save for the monarchy, nobody knew of him and who he was. Of course there'd be the odd witch or wizard or, at worst, a muggle family member who'd seen his picture, but aside from that he was a literal nobody - a nice change. He walked around the supermarket in a leisurely fashion - taking in what was stocked in the aisles and, from time to time, putting something in that reminded him of the times his mother would take him out to the very same shop.
Message Me • 02:06, September 13, 2018 (UTC)
「 Prince Alfred of Wales 」Gryffindor Alum • 👑 Second in Line 👑
「 Occupation 」
Royal Prince
Fortunate for whoever bumped into him, Alfie was in incognito mode; they were saved from perhaps an unjust amount of anger but, also, bodyguards pouncing on them. He didn't register the voice, let alone connect it to anyone in his past, so he happily turned around and flashed a smile. "It's no worries," He said easily before the other's curiosity piqued that of his own, "Yes...?" At the moment he couldn't discern who was before him, half because it'd been long enough for people to change after graduation but, on a more practical side, he saw too many faces a day to remember every single one he had come into contact with. Though, saying that, he felt as if the man standing before him was more familiar than his brain was connecting up to be.
Message Me • 23:03, October 26, 2018 (UTC)
Community content is available under
CC-BY-SA
unless otherwise noted.