The Quidditch Pitch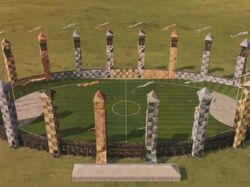 In this location the game of Quidditch is played. The pitch in the shape of an oval, five hundred feet long and a hundred and eighty feet wide. Due to the nature of the sport, spectators watch the game in high towers.
Roleplay
The SW siblings
「 Zoë Sakellarios-Willow 」Stubborn and Loud
Zoe was sitting on the lowest bench, closest to the pitch, swinging her feet as she stared up at the practice that was going on. It was Hufflepuff playing and it was probably a bad idea that she was there, considering she was in the Gryffindor team but she don't think they really cared or noticed who she was. "You know, Hogwarts is a lot quietter than I thought it would be," Zoe said after a moment, to Zenia or Zilya who knew, probably both. With Zenia being sorted into Ravenclaw, Zoe found herself less excited about the castle she dreamed about. It wasn't exactly how she wanted it.
Message Me • 18:06, February 22, 2020 (UTC)
「 Zenia Sakellarios-Willow 」Ravenclaw
Zenia sat on one side of Zoe, her attention fixated on the game before she was snapped out of it by the sound of her sisters voice. Whether Zoe was talking to her or Zenia didn't know but, she decided to respond anyways. "Yeah, it's quite now but, i'm sure it'll get more exciting later on in the year." Zenia said, trying to lift Zoe's spirits just a little. If she were being completely honest though, she was sad she hadn't gotten into gryffidor along with her sisters. It was weird being in Ravenclaw where she didn't know a single soul, not that she's made any attempt to make any friends anyways.
Message Me • 00:04, February 28, 2020 (UTC)
Community content is available under
CC-BY-SA
unless otherwise noted.