TheFlyingFoot

– User - Flying Blue Cat - God of Cookies




TALK

 

– 14:28, December 23, 2012 (UTC)

Hello,

{{{1}}}

!

I am, TheFlyingFoot as you can tell. You have ventured onto my Talk Page. This is where you leave messages to myself. You can ask me questions! Complain about something and if you need any help please ask. I'm here for anything! Please remember to sign your posts using four tildes (~~~~) or the signature button. Please create a section header as well. For example, ==Question== Thank You, for visiting my talk page. I should reply to your message as soon as possible.

- TheFlyingFoot
Archives

– The Flying Archives of TheFlyingFoot




TALK

 

– 10:26, December 24, 2012 (UTC)

Archive 1

---
Talk Page Start
Yui Anzai's Sorting
Welcome to Ravenclaw!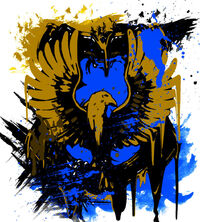 Hello TheFlyingFoot, and welcome to the Dumbledore's Army Roleplay Wiki! I saw that you put your character in for Sorting, and you have been Sorted into Ravenclaw. Congratulations! Now you can start making your character page. Create a new page with your character name by clicking this button:

. It should be at the top right corner of your screen. Click the arrow and click 'Add a Page'. Choose the 'Blank Layout' and type your character name in the box. Make sure it's properly punctuated and it's exactly the way you want it.
Then you can start filling out your character page with information about your character. What does your character look like? What is his or her personality like? You can look at other character pages for ideas (i.e. Karith Black, Teresa Waters). Also make sure you add a Category for your House (Eg. [[Category:Ravenclaw]]).
You can check out the starting guide for the next step. If you need any further help, send me a post on my talk page. You can also ask for help from anyone in the administration team.
Thank you and again, welcome to the wiki!
Is this
America's Next Top Model?
~SoA
Where do you get your headings for MURP?
a girl roleplayer not so silently wishing for a future with Kate Mara
Hey
Hi Foot!
I got back a little bit ago, and I still haven't seen you yet. I know that sometimes you just have to go inactive, but I wish you were here!!!! I also wish I could've gotten back a little sooner to see you, but maybe you'll come back. COME BACK! I'll save you a cookie.
Aren't pigs
supposed tofly? 00:19, November 21, 2013 (UTC)
And even if you're not really going to come back, you should stop by sometime to say hi. (If I bribe you with more virtual cookies, will it work?)
Aren't pigs
supposed tofly? 00:27, November 21, 2013 (UTC)
Sorry we seem to have lost you again
Dear Foot, hope you're OK. It's been a while since we heard from you, so I just thought I'd check in. Look after yourself, Alex

Jiskran 06:17, November 27, 2013 (UTC)
Images & Videos
Do you still want:
I'm deleting unused images and videos. Because you have been an inactive user for less than a year, I'm giving you 1 month to respond before deletion.
We miss you Foot!
♥EchostarThe most important thing in communicationis hearing what isn't said.

16:11, July 4, 2014 (UTC)
First Footing
Another year, and a hope you're safe, well and enjoying life. :) Alex

Jiskran 10:59, January 19, 2016 (UTC)
Community content is available under
CC-BY-SA
unless otherwise noted.