Weeoanwhisker's Barber Shop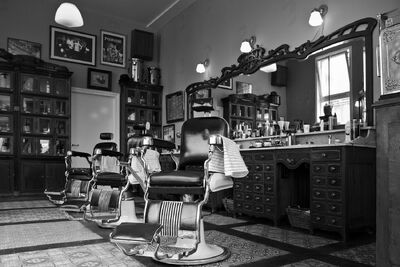 Weeoanwhisker's Barber Shop is a wizarding hair care shop. It is located in Lincliff City, next-door to Cogg and Bell Clockmakers. They offer haircuts, shaves, beard trimmings, mustache sculpting, and scalp treatments.
Roleplay
Soren and Sascha
「 Søren Vynter 」The Black Parade
Soren's always been particular about how he looks, especially his hair. Weeoanwhisker's has never let him down, so he's here to get a clean-up, since it's much needed. With all the stuff going on in the parade, it's good to get out into the real world every now and then.
Message Me • 00:04, June 27, 2020 (UTC)
| | |
| --- | --- |
| She doesn't have much need for barber shops, outside of a source of entertainment, of course, which is exactly why she's here today. She wasn't entirely sure what a scalp treatment was, but the barber attending her seemed very enthusiastic about them, and he seemed all too willing to let her sniff the solutions they had available. Did he know she was slipping in some itching solution from the vial in her sleeve? No, but she did, and it was for a good cause. She'd have to leave him a good tip for his troubles. | |
「 Søren Vynter 」The Black Parade
After so many years of being part of the parade, he's no stranger to a quick-fingered snatch. This perpetrator looks familiar though. "Well played." He says, striding next to Sascha, pretending to admire the products, too. "Though, a couple of hot scalp treatments is hardly going to impress Tessa." He says, with a knowing arch of his eyebrow.
Message Me • 17:23, June 27, 2020 (UTC)
| | |
| --- | --- |
| She lets out a quiet, amused laugh, recognizing Soren's voice before she turns her head to shoot him a small grin. She doesn't feel the need to try and act innocent to him - that'd be a waste of her time, anyway. "What, I can't just have a little amusement all to myself?" | |
「 Søren Vynter 」The Black Parade
He smiles sideways, picking up a bottle and reading the instructions. "You don't seem the type to have a flaky scalp." He chuckles, "I don't think we've ever been formally introduced. I'm Soren." He says, "I peddle around in the apothecary most of the times, so when the fumes haven't knocked me out, I rarely get the chance to talk to the newer members." He explains, offering his hand out to her.
Message Me • 13:54, June 28, 2020 (UTC)
| | |
| --- | --- |
| She scoffs, running a hand through her hair dramatically. "If you're waiting until the flakes are there to take care of them, it's already too late. It's all about the preventative care." She picks up another bottle - goat's milk and vanilla - and gives it a whiff. "Sascha." She offers him the bottle, missing his offered hand. "Smell? It's still nice; I've seen you around just enough for you to be safe for now," she adds with a wiggle of her eyebrows. | |
「 Søren Vynter 」The Black Parade
He can't argue with that. "That's fair." He notices that she diverted the handshake for the bottle, which he sniffs. "Too sweet for me. But my little one will like it." He examines it, thinking about getting it for Bjorn. "Safe from you? Do you go around killing allies?" He asks, with a grin.
Message Me • 14:35, July 4, 2020 (UTC)
| | |
| --- | --- |
| "Would that be a child or a pet?" she asks curiously, wondering about his little one. "Hm...I do try not to," she says with a shrug. "But it's always good to exercise caution when I'm around; you never know what I've been up to. Definitely want to bring your own beverages." | |
「 Søren Vynter 」The Black Parade
He laughs audibly, but not unkindly. "He's my son. Bjorn. You'll see him pottering around the infirmary. He's a good kid." He says warmly. "Thanks for the notice. Although I'm a big believer in honour among thieves." His lips curl into a smile, holding a hand up in solidarity. "But I will take your point and consider it noted."
Message Me • 20:02, July 8, 2020 (UTC)
| | |
| --- | --- |
| She'll have to remember to watch out for a small child the next time she's around the infirmary. "Honor among thieves?" she muses. "I can't change my nature, but I'll consider returning your wallet if it ever finds its way into my pocket." She winks at him before grabbing another clean bottle of the vanilla to take home. "Do you let anyone else into the apothecary or do visitors have to wait until after the fumes have done their job?" | |
Community content is available under
CC-BY-SA
unless otherwise noted.